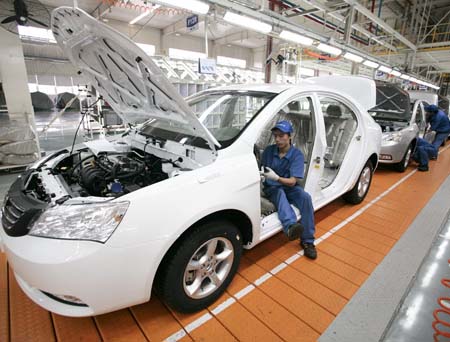 Li Shufu, the billionaire founder of China's biggest private automaker, is leading a push among the country's carmakers for overseas brands to move beyond the world's fastest-growing car market.
Li's Geely Holdings Group Co said this week it might work with Chinese state investment companies to buy Ford Motor Co's Volvo unit.
Beijing Automotive Industry Holdings Co (BAIC) joined a bid for General Motors Co's Saab on Wednesday and Sichuan Tengzhong Heavy Industrial Machinery Co is trying to buy GM's Hummer.
The acquisitions would give Geely and Beijing Auto entry into the US and Europe, where Sweden-based Volvo and Saab have reputations for safety. The Chinese companies would also face the challenge of profitably building cars in relatively small volumes, a feat that eluded GM and Ford.
"It takes decades to establish a recognized, renowned brand," said Jim Hossack, an industry analyst at researcher AutoPacific Inc, in Tustin, California. "China wants to do it much faster, perhaps within as little as five years."
Geely has a target of getting 66 percent of sales from overseas by 2015 compared with 5 percent in the first half. In June, Geely also bought the key assets of bankrupt Australian gearbox maker Drivetrain Systems International to help add larger and more sophisticated models to its product line-up.
Related readings:


 China's Geely plans joint bid for Volvo


 Geely to top 1 year sales target as H1 profits rise 145%


 Beijing Auto may challenge Geely for Volvo


 BAIC says no consensus reached over Opel bid
"I'm fighting for what's in overseas automakers' rice bowls" instead of their leftovers, Li, 46, said. "I want to build Geely into a global first-tier automaker."
For Beijing Auto, the bid for Saab marks a second attempt to buy a European carmaker. It was rebuffed by GM in July when it bid for the Ruesselsheim, Germany-based Opel unit.
GM decided to dispose of Saab in February as part of a European reorganization. The Swedish unit has been unprofitable for most of the two decades that Detroit-based GM has owned it. Saab sold fewer than 100,000 vehicles worldwide last year.
"This is a great opportunity for us to partner up with a brand (Saab) that we believe has a great future with a new business plan and new ownership," Wang Dazong, general manager of Beijing Auto, said in a statement posted on its website.
Chinese carmakers have failed in their ambitions before. In January, 2006, Geely's Li displayed the 7151CK sedan at the Detroit car show and promised the car would be on US roads by 2008. The exports never came. Chery Automobile Co, China's largest maker of own-brand cars, has also delayed plans to enter developed markets.
SAIC's failure
SAIC Motor Corp, China's biggest domestic automaker, bought control of South Korea's Ssangyong Motor Co, only to have the unit go into receivership after SUV sales plunged. Tengzhong's application to buy GM's Hummer has been sent back, China's government said this week.
Following a similar strategy as the Chinese carmakers, Tata Motors Ltd, India's largest truckmaker bought Ford's UK-based Jaguar and Land Rover brands last year. Sales of luxury vehicles plunged due to the global recession and the units had a pretax loss of 281 million pounds ($465 million) in the 10-month period ending March.
"There are more disadvantages than benefits for Geely to buy Volvo," said Lin Huaibin, analyst at IHS Global Insight. "They don't have the capability to manage an international company nor the experience to deal with unions overseas."
Geely earlier this year unveiled the EC718 sedan, its first model specifically designed for European markets. The car, priced from 80,000 yuan ($11,700) to 120,000 yuan domestically, still needs to win certification to be sold in Europe.
Geely has also bought a stake in Manganese Bronze Holdings Plc and set up a Shanghai venture with the London-cab maker that is shipping cars to countries including Saudi Arabia, Turkey and Spain.