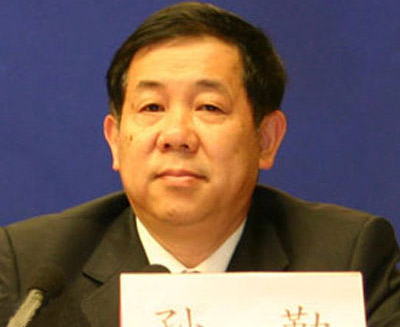 Sun Qin
Sun Qin, deputy director of the National Energy Administration, has been appointed general manager of the China National Nuclear Corporation (CNNC) to replace Kang Rixin, who was sacked during a disciplinary investigation, the Organization Department of the Communist Party of China (CPC) Central Committee told Xinhua Friday.
Sun, 56, also held the post of the secretary of the corporation's CPC Leadership Group.
An official with the Organization Department confirmed that Kang was dismissed from office, but gave no details about the allegations.
Kang had been the CNNC chief since September 2003. On August 5, the CPC Central Committee said he was being investigated for alleged "grave violations of discipline."
The CNNC, a large State-owned enterprise, is comprised of more than 100 subsidiary companies and institutes.
As the main investor and the biggest owner of nuclear power plants in China, it conducts research and development as well as construction in fields such as nuclear electricity production, nuclear fuels and nuclear technology application, according to the corporation's website.
Born in June 1953, Sun has a strong geological engineering background and had long been involved in geological prospecting in China.
After joining the CNNC in 1993, Sun served as the corporation's deputy general manager and a member of the corporation's CPC Leadership Group from June 1999 to August 2005.
He was the chairman of the China Atomic Energy Authority from August 2005 to September 2008.