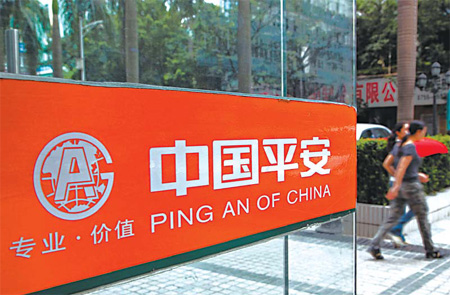 Pedestrians walk past a Ping An Insurance (Group) office in Shenzhen. [Agencies]
Trading in shares of Ping An Insurance (Group) of China, the nation's second largest insurance firm, has been suspended on the Shanghai bourse after surging nearly 14 percent last week on rumors that it was acquiring a Shenzhen-based bank.
Shares of the possible target bank, Shenzhen Development Bank, were also suspended on the Shenzhen stock exchange, pending clarification from the company. The bank is the only mainland bank controlled and managed by a foreign entity.
Related readings:


 Fortis asset sale may not impact Ping An


 Ping An shares soar on upbeat outlook


 Shenzhen bank share reform gets go-ahead


 Shenzhen bank mulls new reform plan
Both the companies have so far not commented on the rumored deal. But Ping An's ambition to diversify into banking has been widely known and closely followed by stock analysts and investors in Shanghai and Hong Kong where it is listed.
Ping An, with total assets of about 750 billion yuan, has reiterated time and again that it is planning to build itself into a comprehensive financial service provider, combining banking, insurance and asset management services in the next five to 10 years.
But so far, its banking operation has remained a sideshow in the group's overall business. Its wholly-owned subsidiary, Ping An Bank Co Ltd, also based in Shenzhen, is nothing more than a small-sized regional bank with total assets valued at 130 billion yuan at the end of 2008, which was less than 2 percent that of China Construction Bank, one of the big-four State-controlled banks.
Analysts said Ping An can only hope to expand its banking operation through mergers and acquisitions. As the financial market continues to mature, the window of opportunity for a newly established bank to grow rapidly is closed, analysts said.
"We are focusing on the development of the banking part of our group business and are open to market opportunities," a manager at the company's branding department said earlier this month.
Market experts said Ping An is likely to acquire the Shenzhen bank through a share swap.
According to a statement on Ping An's website, share trading suspension will continue until the company makes official announcement on the possible deal, which may include information that could affect share price.
Shenzhen Development Bank attributed the share suspension to the making of "an important announcement" in a statement to the stock exchange.
Shenzhen Development Bank is a medium-sized lender with total assets of 474.4 billion yuan, whose bad loan rates have declined to as low as 0.68 percent after writing off and liquidating 1.66 billion yuan bad assets last year.
The Shenzhen bank boasts more than 200 branches in 18 cities across the country, which, if acquired by China Ping An, could more than make up for the insurer's inadequate banking network. Ping An Bank only has limited branches in seven cities, mainly in southeastern part such as Shenzhen, Shanghai, Fuzhou and Xiamen.
The acquisition rumor has further been fanned by talks that Newbridge Capital, the Shenzhen bank's largest shareholder, may seek to sell its stake when the lockup period expiries.
The US-based private investment firm bought 17.89 percent of the Shenzhen lender at 3.54 yuan per share in late 2004 and has since reduced its holding to 17 percent, or 500 million shares. About 70 percent of these shares can be sold when the lockup period expires on June 20.
However, some industry insiders said the share swap deal is hard to fulfill due to the huge share price gap between the two firms. Ping An's share price is about 45 yuan at present, compared to some 20 yuan per share of Shenzhen Development Bank.
Ping An shares rose by the 10 percent daily limit on June 1 with trade volume hitting a record high of 4.37 billion yuan. The robust trading momentum continued in the next two days with the aggregate trade volume surging to 6.2 billion yuan. Its shares closed at 45.1 yuan on Friday.