Gardening has become a hair-raising experience in China. And no one knows that better than World Response Group, a Homestead, Florida-based company that sells a product made from Chinese hair that many gardeners swear boosts plant and vegetable growth.
The company's SmartGrow mat, which looks like a large drink coaster - or a very bad toupee - is placed at the bottom of a container or hole underneath the plant. The mats nourish the roots with human hair's rich supply of nitrogen and other micronutrients. It can also be used atop the soil, where it acts as a barrier against weeds.
Last year alone, the company bought 120,000 pounds of human hair in China and India for its SmartGrow mats. The company claims that the mats are environmentally friendly, 100 percent biodegradable, and that more than 2 million of them are used in Florida gardens and farms alone.
"SmartGrow is not a miracle bullet, but it does do many things that no other product does," said Blair Blacker, CEO and co-founder of World Response. "Last year alone we saved using 20,000 pounds of herbicide that would have ended up in the water."
SmartGrow helps residential and commercial gardeners save on herbicide, fertilizer and water, Blacker said, and can boost production of plants such as tomatoes and peppers. Some nursery owners have said that the product has saved them thousands of dollars in herbicide, labor and watering costs.
While the idea of using products made of human hair for gardening might seem bizarre, the production method used is similar to the way human hair wigs are made. The hair is collected, sanitized and woven into mats in a rug-weaving-like process in a factory in China.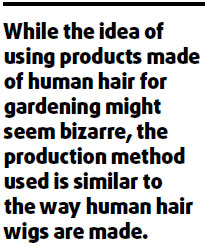 So far, World Response hasn't used American hair, according to Blacker. The reason is that too much American hair is dyed and chemically treated, making it unsuitable for growing food. And there are also no markets or collection systems for human hair in the US. In China, much of the human hair collected is sold to wig makers. Other hair is bought for extraction of its component keratin, which is used in making pizza and bagel dough.
Maurice "Boo" Hanson, a spokesman for SmartGrow, and who owns Hanson Farms in Cummings, Ga., said that placing SmartGrow mats under his tomatoes has boosted production by 48 percent.
Jack Kramer, a noted gardening author in Florida who's published more than 100 books, said he's never seen a SmartGrow mat but that several similar products made from animal hair are on the market and they work. "If it works with animal hair, it probably would work with human hair," Kramer said.
Zhang Shouan, a professor at the University of Florida's Tropical Research & Education Center in Homestead, said he's conducted preliminary trials of SmartGrow mats on tomatoes. While he found "a slightly increased yield compared to the untreated plants after a total of three harvests," he cautions that it's still too early to reach any final conclusion about the product's performance.
But the mats definitely are money savers for some. Brady Vogt, co-manager of Pelican Nursery in Naples, Florida., said he's used human-hair mats as a weed inhibitor in 1- and 3-gallon pots. He said they work better than the coconut-husk mats the nursery previously bought. They're also cheaper and can be re-used two or three times, unlike coconut mats, which fall apart after just one use.
The only problem at Pelican has been "psychological", according to Vogt. "The first time the nice ladies working here saw it, they said it was revolting," he said.