Industrial and Commercial Bank of China (ICBC), the world's biggest bank by market value, and 90 other companies from the Chinese mainland, figure in this year's list of the world's 2,000 biggest companies compiled by Forbes magazine, up from last year's 88 firms.
ICBC has been ranked 12th, the highest for a Chinese company, in the Forbes Global 2000 list, which uses equal weighting of sales, profits, assets and market value to rank companies according to size.
Related readings:


 More than $1B needed to make Forbes list


 Seven mainland firms make the Asia-Pacific Fabulous 50


 84 firms listed in Forbe's leading companies
The country's largest oil producer China National Petroleum Corp is ranked 14th on the list, while another banking giant China Construction Bank is 23rd.
In addition, 42 companies from Hong Kong and 45 from Taiwan have also made it into the list.
Although US conglomerate General Electric tops the list, the number of US companies on the list has dwindled from last year's 711 to 551 this year, as many companies were severely battered by the global financial crisis.
The US, whose companies are still dominant on the list, had 751 companies when the list was first published in 2004.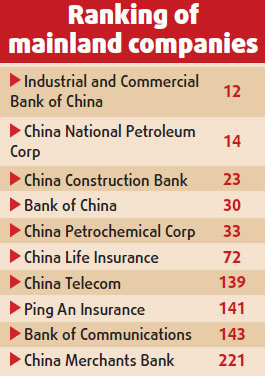 The Forbes Global 2000 companies account for $32 trillion in revenues, $1.6 trillion in profits, $125 trillion in assets and $20 trillion in market value, the US magazine said.
But the aggregate profits and market value took the steepest hit in the latest version of the Global 2000.
Net income of the Global 2000 companies fell to $1.63 trillion, a decline of 30.9 percent from the $2.36 trillion in 2008 and market value dropped 49.3 percent to $19.6 trillion at the same time.
The rankings this year span 62 countries and regions, with more coming from developing countries like India, which has 47 entries.
Even Kazakhstan is now a Global 2000 member. Also gaining a significant presence on the list are corporations from Arab countries: Kuwait, Saudi Arabia and the United Arab Emirates each have at least 10 entries in this year's list.
The Forbes Global 2000 list is a rival to the more established Fortune 500 list, which is based only on revenues.
Led by China's largest refiner China Petrochemical Corp, which is ranked 16th, nearly 35 Chinese firms figure in the Fortune 500 list.
The oil refiner stands 33rd in this year's Forbes 2000 list, climbing up from last year's 94th.
Despite the turmoil in the banking industry, banks still dominate the list, with 307 entries, thanks in large measure to their asset totals. A total of 11 banks from the Chinese mainland are on the list.