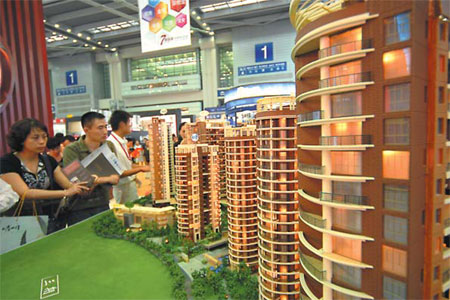 Potential buyers look at real estate projects at a property trade show in Shenzhen. [China Daily]
Shenzhen real estate sales are expected to see the fastest rebound among mainland cities this year, with flat prices expected to rise 3 to 5 percent.
This comes after 2008 saw a 37 percent drop in Shenzhen flat purchases by Hongkongers, according to Landpower International Holdings.
The city has been the most popular in recent years for Hongkongers looking to invest in mainland properties. In 2007, 39 percent of the property bought on the mainland by Hongkongers was sold in Shenzhen.
But the city was hit hard by the government's tightening measures last year, with flat prices plummeting 30 percent. And even that wasn't enough to stimulate buyer interest, as turnover slid about 37 percent with between 5,500 and 5,700 units sold.
"The tightening monetary policy in the first half hindered the fundraising activities of many developers," Landpower Chairman Michael Choi said. "Together with the credit crunch, it significantly undermined the purchasing power of homebuyers."
The number of all mainland flats purchased by Hong Kong residents fell about 33 percent in 2008 to a 3-year low of between 15,200 and 16,100 units, and the total value shrank 27 percent to HK$12.1 billion.
However, Choi said he believes that the recently released expansionary policies could buoy the prices of flats. And given that Shenzhen has seen a notable downside correction, its flat prices could increase 3 to 5 percent this year. In contrast, flat prices in the Pearl River Delta region could see an 8 to 10 percent decline, while Shanghai flat prices might shed 10 to 15 percent, he predicted.
"Since the extent of Shenzhen's correction has been the largest in the past, its rebound will outpace its peer cities," Choi said.
Choi said he believes Hong Kong buyers will remain cautious about investing in Shenzhen flats. Last year, the number of Hong Kong people buying Shenzhen flats with the intent to rent them out fell 5 percentage points to 21 percent.
"I believe that many Hong Kong buyers will take a wait-and-see approach in the first quarter," Choi said. "The transactions will be resilient as early as the second quarter."