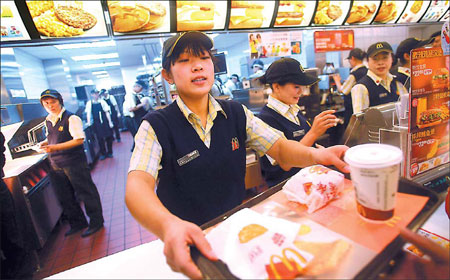 During the Olympic month, when eating in McDonald's, you could hear the song, "China wins, we win" broadcast repeatedly.
Jim Skinner, vice-chairman and CEO of the world's largest fast-food company, says he appreciates the slogan.
Actually, he has reason to mean what he says, since setting up the first McDonald's in China in Shenzhen in 1990, the Western restaurant chain has been expanding steadily and successfully.
So far, other than the home market - the United States - China is the No 1 growth market for McDonald's, with 960 restaurants and over 60,000 employees.
For 2008, China represents one third of all capital expenditures in the Asia-Pacific, Middle East and Africa region, where the fast-food giant is in 37 markets, according to Skinner.
"We've been steadily growing with China for the past 18 years and are very excited for what the future holds," he tells China Business Weekly.
In October 1990, the leading global fast food chain chose Shenzhen, a pioneer Special Economic Zone in Guangdong province bordering Hong Kong, to open its first 500-seat store in the developing market. Located on Jiefang Road, the southern China city's busiest commercial area, McDonald's quickly won over the local consumers with its Ronald McDonald clown, Golden Arches or the yellow M logo, and Big Mac.
However, McDonald's was not the first fast-food chain on the mainland. In November 1987, the US-headquartered KFC launched its first China outlet in Qianmen of Beijing, an area neighboring Tian'anmen Square.
KFC's great success during a short period of time spurred McDonald's to the Middle Kingdom, a country that embraced the opening-up and reform policy in 1978, when Chinese curiosity about the West was at a peak.
It was really a bold idea at the time, because China is a nation that has taken pride in the delicacy and diversity of a cuisine which dates back thousands of years, critics say.
In addition, while the monthly salary of urban residents in key cities at that time was 120 yuan ($17.54) to 130 yuan, a 10 yuan Big Mac and double-cheese burger at 5 yuan were not affordable for most.
But many Chinese still flocked to the store, due to its many attractions. Except for the delicious burgers, crispy French fries and icy milk shakes, there was the image of an affable and farcical Ronald McDonald, the striking yellow, red and blue decor, the smiling attendants and the quick service, in sharp contrast to poor service consumers had long endured at local restaurants.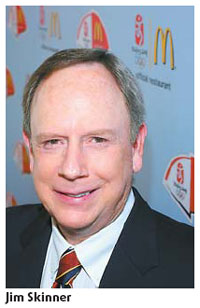 The success of the Shenzhen outlet prompted McDonald's to expand its chain nationwide. The then largest restaurant in terms of area for the fast-food behemoth was opened in 1992 at Beijing Wangfujing Street, the bustling commercial street of the capital city.
By the first quarter of 2002, there were 460 McDonald's around China. The figure reached 600 at the end of 2004. At the same time, its arch rival in China KFC expanded its network to 1,200.
So far, KFC has around 2,200 stores dotted around China's 465 cities. It is expanding at the rate of one store a day, reaching further into the counties, while McDonald's plans to have 1,000 stores in China by the end of 2008. But McDonald's indicates it pays more attention to same-restaurant performance.
"We have a business model of getting better versus getting bigger. It's not about you have how many restaurants, it's about how many restaurants that serve your customers well. It's not about how big, it's about how good and how you run your business," says Jeffrey Schwartz, McDonald's China CEO.
In early August, McDonald's reported an 8 percent increase in July global same-store sales, and its Asia-Pacific, Middle East and Africa region saw 7.2 percent growth, driven by extended hours and menu varieties, especially in Australia and China.
However, despite Schwartz's note of "getting better versus getting bigger", McDonald's has not stopped aggressively increasing the number of its outlets in China.
The company will open 125 restaurants this year, 150 next year and 175 in 2010 across the country, says McDonald's CEO Skinner.
Compared with 1990, McDonald's menu in China has grown and includes foods tweaked for local tastes to satisfy consumers.
But Schwartz says that the hamburger and fries Western style is still at the heart of the Chinese menus.
"We do extensive focus group studies of Chinese consumers, and one of the things that Chinese consumers say over and over again is that 'we come to you because you are a Western brand, if we want to rice or congee we can eat at home or in Chinese restaurants, we want to sample the Western brand,'" he says.
Some of the menu ideas developed in China have been exported to other markets around the world. Take corn cup as an example, it was invented by the McDonald's China research and development center and proved to be very popular due to its healthy content and flavor and it has been introduced to other Asian marketplaces.
Skinner visited China in August for the Beijing 2008 Olympic Games, as McDonald's was an official partner of the event.
"We are very proud to be here," says the global CEO.
The mainland's fast-food market was worth almost $200 billion last year and was growing 16 percent per year, sources from the Ministry of Commerce say.
"We are going to continue our growth at a faster rate in China, while it has little to do with the association with Olympics, China is a huge market with great opportunities for businesses around the world, and it's no different for McDonald's," he adds.