The World Bank has raised its forecast for China's inflation this year to 7 percent from 4.6 percent as previously projected in February, but said the fundamentals of the economy remained robust.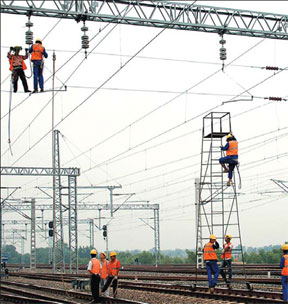 In its latest China economy quarterly update released yesterday, the Bank raised its projection for GDP growth in 2008 to 9.8 percent from 9.6 percent, citing new data adjustment made by the National Bureau of Statistics that points to a better performing service sector.
The recent earthquake - despite the enormous human tragedy - is expected to have only a moderate impact on the wider economy, said the World Bank report.
"When we look at the recent economic data, we see an economy that is slowing down to a sustainable but pretty robust pace of growth," said Louis Kuijs, senior economist of the World Bank Beijing office.
While economic activity in China has moderated in line with the global economic slowdown, real growth of exports and imports remains robust, the report said. Industrial growth also picked up in the second quarter and investment in agriculture has increased strongly.
Inflation, however, remains a serious challenge, said the report. Despite easing in May, at 7.7 percent year-on-year from 8.5 percent in April, new impact from the recent industrial commodities and oil price rises is expected to spill over into the consumer inflation zone in the coming months.
Moreover, while food prices are receding, some spillover from food prices is pushing up wages and other prices, the report said.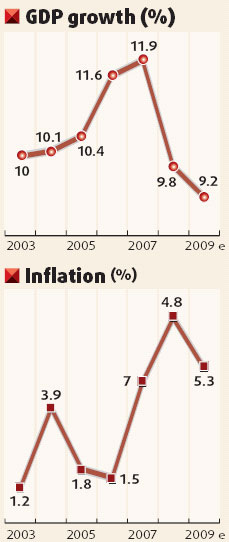 However, it said the peak inflation may have passed and it will gradually ease and drop to 5.3 percent for the whole of next year.
Given the high inflation and the robust economic growth momentum, the World Bank economists suggested that it is not the time to relax the current tight monetary policy.
"A relatively tight monetary policy stance is needed to contain spillover of price pressures and inflationary expectations," the report said, warning that if the current inflation level continues for an extended period, it may affect domestic demand.
Speculative inflows
The report also noted an apparent rise in speculative inflows and suggested that China tighten capital controls and make the yuan's exchange rate more flexible to dampen speculative capital influx.
"There are increasing indications that speculative inflows are on the rise in China" though it is difficult to calculate the exact amount of such capital, said Kuijs.
While tightening controls of capital inflows is necessary, Kuijs held that China should stick to its traditional gradualist approach in dealing with the exchange rate because that "has so far served the real economy quite well".
"So far, China's policymakers have been able to deal with the inflows," he said.
Oil pricing reform
The World Bank suggested that China reform its refined oil pricing regime to bring it in line with international crude prices.
The oil prices in the international markets have surged to above $130 a barrel, but China has imposed regulation on its domestic refined oil prices to reduce its impact on consumers, many of whom are poor farmers using agricultural machines.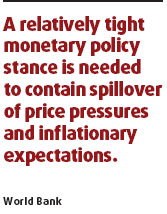 If international oil prices largely remain at such a level by the year-end, China would have to spend about 333.6 billion yuan, or 1.2 percent of its GDP, in subsidies for oil consumers, according to the Bank's estimate. Based on the level of $108 a barrel, the subsidies would be about 218 billion yuan.
"It's definitely in China's interest to let the big increases in the oil prices in the world markets pass through Chinese firms and households to encourage them to be more energy-efficient," said David Dollar, the Bank's country chief for China. "The change does not have to be all at once. It can be gradual and an exact timetable is not that important."
If China lets the oil price rise gradually, it should not have a big effect on inflation, he said.
The World Bank economists also held that the recent economic turbulence in Vietnam would not have much impact on China's economy, citing the better macroeconomic management of China.