Chinese Premier Wen Jiabao told Asian and European finance ministers Sunday that China favored a flexible currency but would not be rushed into action as much preparation was still needed to avoid economic shocks.
The Chinese currency's peg to the U.S. dollar became a hot topic among participants of an Asia-Europe Meeting (ASEM) of finance ministers in the northern Chinese port city of Tianjin.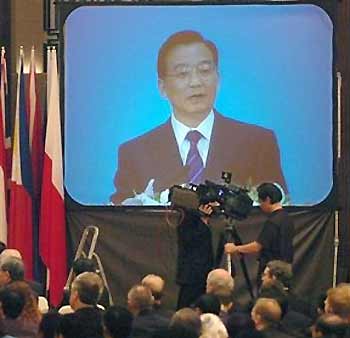 Chinese Premier Wen Jiabao delivers a keynote speech Sunday, June 26, 2005 at the opening ceremony of the Sixth Asia-Europe Finance Ministers' Meeting in Tianjin, North China.[AP]
Speaking to delegates from nearly 40 member countries of ASEM, Wen said China's goal in reforming the yuan was to move to a market-based and floating exchange rate system, but he remained cautious about the timing.
"We must take into consideration both the present needs and the future developments, while guard against undue haste," Wen said.
China is under intense pressure from its trading partners, especially the United States, to loosen the yuan's peg to the U.S. dollar, which critics say gives Chinese exporters an advantage in international trade. China has kept the yuan pegged at around 8.28 to the dollar.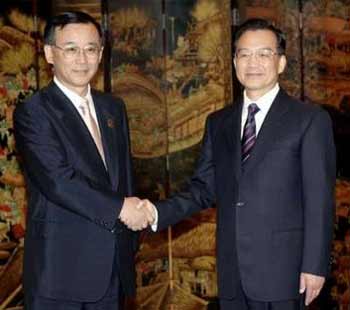 Chinese Premier Wen Jiabao (R) shakes hands with Japanese Finance Minister Sadakazu Tanigaki during a meeting in Tianjin, a municipality in North China, June 26, 2005. [Xinhua]
"Since this reform involves a wide range of areas and will have a far-reaching impact, it still requires a great deal of preparation to help create an enabling environment for all sides to sustain the possible impact," Wen said.
Wen's remarks stimulated discussions on the yuan among some participants from small European countries at the ASEM meeting, which also focused on soaring oil prices and economic conditions in Asia and Europe.
ASEM, whose members account for some 60 percent of world trade, is one of the few international groupings not including the United States.
Although Wen said much preparation was still needed to reform the yuan, some delegates said they believed China could still make small moves at any time.
Many investors have been betting that China may begin pegging the yuan to a basket of currencies or widen its trading band to the dollar -- a move that would probably lead the yuan to appreciate -- as early as this year.
Speaking shortly after Wen's speech, Belgium's Finance Minister Didier Reynders told reporters that he hoped China would not take too long to reform the yuan.
Japanese Finance Minister Sadakazu Tanigaki repeated his calls for a more flexible yuan regime but added that quieter discussions were needed on the issue, questioning the effectiveness of putting too much external pressure on Beijing.
"Since it is growing into such a big economy, every move China makes has an impact on Japan as well as the world, so discussion on the issue is necessary, but I think calm discussions are needed," Tanigaki said.
The ministers expressed concern about soaring oil prices, which hit a record $60 last week, stressing the need for increased production and the importance of investing in new capacity and conserving energy.
The ministers also agreed on a "Tianjin Initiative," which aims to establish new talks to coordinate responses to last winter's tsunami, according to a statement issued after the meeting.