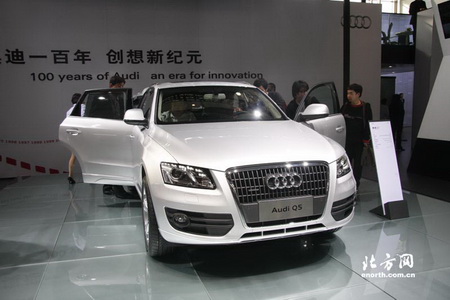 Audi Q5 [Agencies]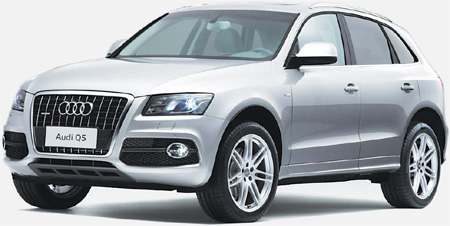 Audi Q5 [China Daily]
The imported SUV has two engine options: 2.0-liter turbocharged FSI four cylinder and 3.2-liter FSI V6. Both are equipped with a 7-speed S-tronic gearbox and Audi's Quattro technology.
The 2.0-liter version generates maximum power of 155kW/4,300-6,000rpm and boasts peak torque of 350Nm/1,500-4,200rpm that accelerates from zero to 100 km/h in 8.6 seconds and only consumes 9.9 liters of gasoline per km.
The 3.2-liter Q5, which produces maximum power of 199kW/6,500rpm and offers top torque of 330Nm/3,000-5,000rpm, accelerates from zero to 100 km/h in 6.9 seconds. Its comprehensive fuel consumption is 10.6 liters.
The Q5, retailing between 577,000 and 678,000 yuan, goes head-to-head with the BMW X3, Mercedes-Benz GLK and Volvo XC60. The Q5 is 4,629 mm long, 1,880 mm wide and 1,653 mm high. It has a 2,807-mm wheelbase, the longest in its segment.
Audi said it will launch a locally made Q5 at the beginning of next year. The localized Q5, made at Sino-German joint venture FAW Volkswagen, will sell for 370,000 to 530,000 yuan. Audi expects to sell more than 20,000 units of the model in 2010.