Geely Holding Group Co's 10-month effort to buy Volvo from Ford Motor Co may fall apart within days as the companies struggle to agree on intellectual property rights, two people familiar with the talks said.
Geely and Ford officials are meeting in London this week to try to resolve the US automaker's concerns about sharing technology and future product plans, said the people, who asked not to be identified because the negotiations are private. Without an accord, Ford may opt to keep the Swedish unit, where losses are narrowing and sales are improving, the people said.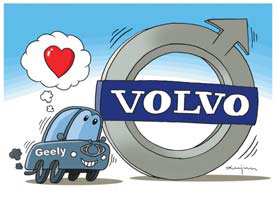 Concerns about intellectual property rights have hindered Chinese automakers' attempts to make acquisitions, slowing overseas expansion plans. In July, General Motors Co rejected an offer for Opel from Beijing Automotive Industry Holding Co after failing to agree on safeguards for designs and technology.
"Volvo is completely integrated into Ford's product development strategy, and Ford should be concerned about where its vehicle architectures will end up," said Michael Robinet, a CSM Worldwide analyst in Northville, Michigan. "This is akin to selling a room on your house. You can't separate it easily."
Ford, the only major US automaker to avoid bankruptcy, put Volvo on the block in December as it shed overseas luxury lines to focus on its namesake brand. Geely, China's biggest private automaker, is offering about $2 billion, less than a third what Ford paid a decade ago, people familiar with the talks have said.
Any Volvo buyer would gain insight into Ford's future products, which will still share Volvo technology and mechanical vehicle designs, the people said. Ford wants assurances that Geely will keep new-model blueprints secret, the people said.
Without those guarantees, Ford is prepared to put off plans to sell Volvo because the unit's prospects are improving and it might command a better price when the economy recovers, the people said.
"We are still talking to interested parties," said Mark Truby, a Ford spokesman, who declined to comment on whether talks could collapse without an agreement on intellectual property. "With any process like this, we wouldn't want to provide a lot of detail prematurely."
Geely spokesman Zhang Xiaodong declined to comment.
Related readings:


 Geely to buy Volvo from Ford


 Geely to buy Volvo from Ford: reports


 Geely says no plans to buy Ford's Volvo car unit


 Geely capital raising move may fund Volvo buyout bid
The Chinese automaker fell 2.8 percent to HK$2.78 ($0.36) yesterday in Hong Kong trading. Ford rose 14 cents, or 1.9 percent, to $7.71 on Tuesday in composite trading on the New York Stock Exchange. Ford has more than tripled this year, while Geely has quadrupled.
Ford also is negotiating with another bidder, known as the Crown group, people familiar with the discussions said. If talks falter with Geely, it isn't clear whether Ford would still talk with other suitors or shelve a sale for now, the people said.