Moved by the spirit
By Cheng Anqi (China Daily)
Updated: 2007-12-21 08:33
An unexpected pair of dazzling new stars rose from the CCTV Dance Contest. Hand in Hand, performed by disabled dancers Ma Li and Zhai Xiaowei, moved and inspired audiences with the performers' dedication and talent.
Hand in Hand was the first entry from disabled dancers among the four contests to date. Both of the dancers had lost limbs in car accidents; Ma Li lost her right arm, and Zhai Xiaowei his left leg. Behind their stunning performance lies deep commitment.
The 30-year-old Ma was the youngest born to a working-class family in Zhuma Dian, of Henan Province, and was always adored by her parents.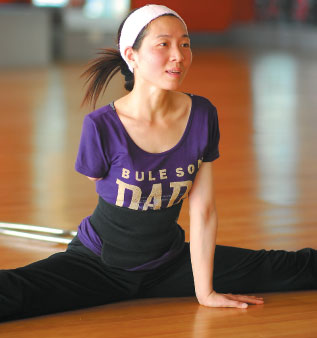 "They keep me from doing burdensome work, which enabled me to totally immerse myself in what I adore," she says.
Ma, who always enjoyed dancing, was matriculated into an art college after junior high. She went on joined an art ensemble in Qingdao Province and later become a professional dancer.
But the fateful day of her car accident in 1996 seemingly shattered her promising future.
"When I regained consciousness at the hospital, I found my parents, my sisters and brothers were all round me, their eyes full of tears," she recalled.
At the time, she was clueless as to what had happened to her and insistently consoled them - that is, until she tried to get herself a glass of water.
"There was no strength on my right side, and I was shocked when I turned back my bedclothes and there was no arm there," she says. The woman, then just a 19-year-old girl, had needed an amputation due to bone tissue necrosis resulting from the accident.
It was devastating. To her, dancing, which was her life, required perfect body language.
"How could it be done with physical deformity?" she asked herself.
She gave in to despair, and for a whole year, isolated herself in her home. During this time, she learned how to keep house using only her left hand.
Eventually, Ma decided to get her life back on track. But the 21-year-old couldn't stand the way she looked with only one arm.
"I made some specialized clothes with special pocket that could hold an artificial limb," she says.
She graduated from design school and earned her living selling costumes and fruit at the market. She also opened a small bookshop, which became successful and inspired Ma to regain her self-confidence.
In April 2001, she answered a call from Henan Disabled Persons' Federation (HDPF) who invited her to attend a national disabled person's art festival.
"I felt both surprise and grief upon finding that my imperfect side would be exposed in public," she says.
She couldn't make up her mind whether or not she should go.
"Actually, I was a little scared to face reality and doubted that a dancer with only one arm could whirl."
Increasingly, she found herself wondering whether or not she could overcome the difficulties she was facing to live up to her dream of becoming a dancer.
But with encouragement from her family, she mustered the courage to accept the invitation.
"I saw a lot of disabled people in HDPF, and suddenly, a powerful sense of self-reunification overcame me. I saw my real self," Ma says. "Their pursuit of art impressed me and drove me to follow my duty and my heart."
She cried tears of joy upon completing her dance performance at the festival, and she was later selected as the festival's champion.
To further pursue her dream, Ma came to Beijing alone in 2002 to start a new life. She joined several art ensembles in the capital, and new dancing opportunities began trickling in.
In 2005, Ma returned to Henna, where she created another dance, Hand in Hand. "I was looking for a male partner until I met Zhai Xiaowei," she says.
Zhai's left leg was amputated in a car accident at age 4. He had just become a preparatory athlete of HDPF.
"Ma came to me one day when I was training and asked: 'Do you like dancing?'" Zhai says. "Her question really threw me. How could I dance with only one leg?"
Because of her specialized clothing, which concealed her disability, Zhai didn't notice Ma only had one arm.
He was offended by the questions of the woman before him, and shrugged off her inquiries: "What's your name?" "What's your phone number?" "Where you live?"
Zhai answered her only with silence.
But the persistent Ma gave him a ticket for a dance performance to take place two days later.
"The girl's dancing so electrified me that my hair seemed to stand on end! She danced gracefully, even though she only had one arm," Zhai says. "'So', I thought, 'that's why she peppered me with those questions'!"
Taking Ma's lead, Zhai settled in Beijing and began his dancing career from scratch.
"I often failed to keep balance when holding her, so we fell down a lot," Zhai says, recalling one fall in which he dislocated his shoulder.
Every day, he would practice his onstage facial expressions in the mirror, working to learn how to best convey emotion to the audience. After two years of training together, the duo decided to enter the 4th CCTV Dancing Contest this April.
"We were afraid we'd be rejected by the organizers when we submitted the footage of our dancing," Ma says. "But to my surprise, they called back and seemed really interested in us."
And that interest continued until they were selected as the champions - champions who won, in no small part, because although they both lost limbs, they refused to let their spirits be broken.

(China Daily 12/19/2007 page16)