My friend says I look like Miss Marple sitting upright on my Flying Pigeon Light Roadster. She can mock all she likes that scornful tone is tinged with envy.
The iconic bike might be out of favor with your average Chinese urbanite, but I wouldn't be seen pedalling on anything else. They can keep their cars and showy mountain bikes, the Feige (Flying Pigeon) is for me.
I bought it second-hand from a chuckling bicycle repairman about a week after I got here. I'd never heard of the brand but was instantly won over by its simplicity: 20 sturdy kilograms, black, no gears, shiny chrome handlebars, a good, shrill bell and a basket on the front. I paid 120 yuan over the odds I was later told, but it did come with new tyres.
They're popular with foreigners. I've since had many covetous comments from cyclists making do with new and old bikes of dubious quality. They say the ubiquitous Flying Pigeon is hard to track down these days, or at least the new models are.
Tianjin-based Flying Pigeon Bicycle Co Ltd is a State-owned firm set up in the 1930s. The first Flying Pigeon-brand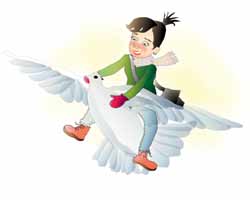 bicycle winged its way off the production line on July 5, 1950. It was the first Chinese bike produced after the People's Republic of China was founded.
For decades it had only two competitors, the other State-owned brands Forever and Phoenix. In its 1980s glory days it was the nation's biggest manufacturer of six. It peaked in 1986 with sales of 3 million, but they plummeted to 200,000 in 1998.
Now Flying Pigeon has to compete with around 300 bicycle firms in car-obsessed China, and it's struggling to shift gears to meet changing consumer tastes. Its limited range of standard black, gearless models has been expanded to include different colors and over 200 styles.
The bikes are still made in China at a new factory in Tianjin, but times are tough and it's looking at ways to cut costs, like outsourcing manufacturing to other parts of Asia or to Africa. In 2005 it produced 1.5 million bicycles, exporting 30 percent of them.
Back home I've got a fancy hybrid mountain bike that cost me about A$500 (3,066 yuan). It's super lightweight, with 21 gears. There was always something going wrong with it and I never used those gears to full advantage. My gearless Flying Pigeon is far superior, at least on the flat roads of Beijing and less likely to be stolen.
In fact, I've become something of a Flying Pigeon trainspotter since I discovered the charms of these old bicycle beauties. Mine is a sleek city runabout compared to the weighty, more masculine model that comes with a reinforced crossbar designed to carry pigs.
I've wobbled home on many an occasion with cumbersome items like planters and lamps crammed into the basket and on the back. But lately I've been a little preoccupied with tricycles. Every time I see one stacked improbably it makes me question whether my Flying Pigeon is enough; perhaps it needs a trailer and an extra wheel.
I was taking my chances in the lurching traffic recently when a convoy of three-wheelers appeared in the opposite direction. They were connected by a rope and loaded to the hilt with Styrofoam. It was a wide load, about the size of a light truck, and there was nowhere to go but the gutter. For a fleeting moment collision seemed unavoidable. But I wasn't really worried as ever, my indestructible Flying Pigeon was unflappable in the face of danger.
Contact the author at robynschorn@gmail.com
(China Daily 01/24/2007 page15)