The CPC should firmly resist corruption and seriously punish corrupt officials. Party organs at all levels should strengthen anti-corruption education for the Party members, he said.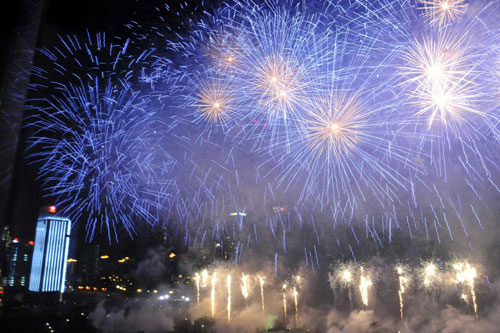 Fireworks explode over Shenzhen's Central Business District to mark the 30th anniversary of the establishment of Shenzhen special economic zone September 6, 2010. [Photo/Xinhua]
Li Ka-shing, chairman of Cheung Kong (Holdings) Limited, said in a speech the Shenzhen SEZ was the "driving force" of China's reform and opening-up.
"Overseas Chinese have been heartened and convinced by the achievements of the country's reform and opening-up," said Li, Hong Kong's richest man.
Wang Rong, secretary of the Shenzhen Municipal Committee of the CPC, said Shenzhen will continue to play the role of "first mover" and strive to be at the "vanguard of China's scientific development."
He said Shenzhen is endeavoring to build itself into a "modern and international" metropolis.
With more and more economic projects being launched here, Shenzhen has started adjusting its economic growth pattern, said Prof. Zhu Huiqiang with South China University of Technology.
The city was strengthening its innovation abilities and upgrading its industries, he said.
In terms of reforming the government's social management, Song Xiaowu, President of the China Society of Economic Reform, said that the government should pass on most of its public service jobs to social organizations.
"The Special Economic Zone has established an efficiency-preferable market economy system in the past 30 years and from now on its main job should be establishing a social system focusing on fairness and justice." Song said.
Ma Zhanwei, a migrant worker from central Henan Province who is employed on the Shenzhen subway construction project, told Xinhua that local government has exempted migrant workers from medical insurance fees for a year starting August 2010.
The exemption policy is believed to benefit more than 8 million migrant workers in Shenzhen.
"My monthly income is about 2,500 yuan, enough to support my family's basic needs," Ma said. "I hope that my salary can increase steadily and more people can benefit from Shenzhen's progress."