SHENZHEN - Premier Wen Jiabao has called for adherence to the reform and opening-up policy and rejection of regression and stagnation while making a study tour of Shenzhen, the country's first special economic zone (SEZ), on Friday and Saturday.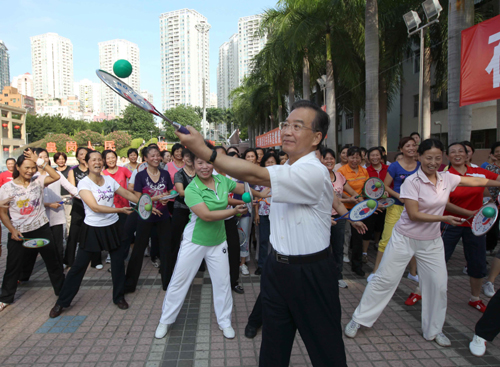 Premier Wen Jiabao joins morning exercisers during his visit to Shenzhen on Saturday. [Xinhua] 
Regression and stagnation will not only end the achievements of the 30-year reform and opening-up drive and the rare opportunity of development, but will also suffocate the vitality of China's socialist cause with its own characteristics. To do so would also be against the will of the people, the premier said.
Related readings:


Premier visits Shenzhen in S China


Shenzhen to mark 30th anniversary of economic zone


30 years on, Shenzhen keeps going
China's development and the change it has undergone over the past over 30 years have relied on reform and opening-up, Wen noted, adding that the realization of the great rejuvenation of the Chinese nation will rely on continuing to do so.
He praised Shenzhen, Guangdong province, which became a SEZ in 1980. Shenzhen's success proves the decision to adopt the reform and opening-up policy was a crucial choice for modern China and that it is the only road to achieving national prosperity and the people's happiness, the premier said.
During his stay in Shenzhen, Wen visited some local enterprises, research institutes, ports and communities in the company of the Guangdong Party chief, Wang Yang.
The premier focused on issues like how to accelerate the reform of China's economic development model.
On Friday evening, he presided over a conference to hear work reports from local officials.
Wen said Shenzhen has not only changed itself greatly, but also made an important contribution to the reform and development of the whole nation. The premier pledged his support for Shenzhen's further development as a SEZ.
"Innovation must continue to be the soul and life of a SEZ," he stressed.
Wen also said that China should push forward not only through economic restructuring, but also political restructuring. Without safeguarding political restructuring, China may lose what it has already achieved through economic restructuring and the targets of its modernization drive might not be reached.
The premier said people's democratic rights and legitimate rights must be guaranteed. People should be mobilized and organized to deal with State affairs as well as economic, social and cultural affairs in accordance with the law, he said.
According to Wen, the over-concentration of power and ineffective supervision can be resolved by improving institutions. He also demanded the creation of conditions to allow the people to criticize and supervise the government.
Wen pledged to build a fair and just Chinese society and, in particular, to ensure judicial justice.