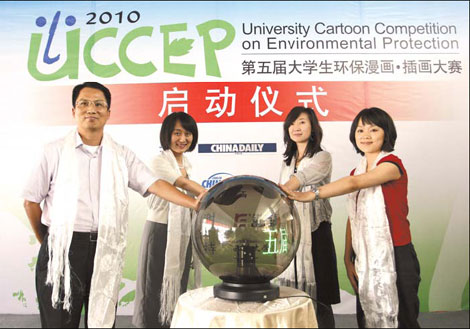 A grand ceremony was held in Lhasa yesterday to mark the beginning of the 2010 University Cartoon Competition on Environmental Protection. Zhao Guanghua (first left), deputy director of the executive bureau of the organizing committee of Universiade Shenzhen 2011, and Yang Chunya (second left), deputy editor-in-chief of Chinadaily.com.cn were present at the event. Zheng Huawei / China Daily
China Daily and organizing committee co-host competition
LHASA- Tibet University opened the 2010 University Cartoon Competition on Environmental Protection on July 12 for students from both home and abroad .
Jointly hosted by China Daily and the organizing committee of Universiade Shenzhen 2011, this year's event themed "Blue sky, green Universiade, UU loves the earth" encourages entrants to use Shenzhen Universiade mascot UU in environmental creations.
The Universiade is the world's biggest athletic event for college students, set to be held in Shenzhen from August 12 to 23 next year.
Two branches of the China Daily media group - its website Chinadaily.com.cn and 21st Century newspaper will help lead the international competition.
"In the form of cartoons, we hope to affect the most active and communicative group in the society university students to call on more people to pay attention to environmental protection," said Yang Chunya, deputy editor-in-chief of Chinadaily.com.cn.
The China Daily cartoon competition has been held every year since 2006 and has received support from more than 100 universities including Tsinghua University, Zhejiang University and Fudan University.
Participants in previous competitions submitted more than 10,000 works, among which 20 percent were from abroad.
With more university students from both home and abroad taking part in the competition, hosts hope the event will help express concern about today's important environmental issues.
Yang added that China Daily, as the official media for Universiade Shenzhen 2011, will make this year's competition more creative and comprehensive, so more university students around the world understand efforts made by Shenzhen for a "green Universiade."
"Shenzhen will implement 11 measures to reduce carbon emissions and pollutants to realize the goal of a 'green Universiade'," said Zhao Guanghua, deputy director of the executive bureau of the organizing committee of Universiade Shenzhen 2011.
A volunteer in the competition, Zhou Ziqian, who traveled from Shenzhen by bicycle, recently arrived in Lhasa and plans to continue his single-handed journey to China's border.

Creations in the competition can be submitted from July 12 to Oct 31 online, by e-mail or post.
The judging panel for the competition is comprised of environmental institutions, cartoon experts and university professors who will select works and award prizes in December.
(China Daily 07/13/2010 page24)