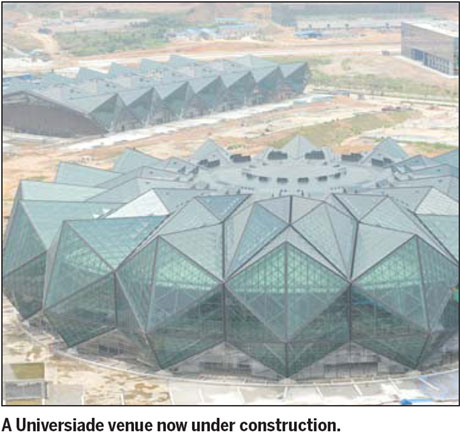 The Universiade presents an opportunity to not only host an international college sports event, but also for the overall development of Shenzhen, the city's Party secretary and acting mayor Wang Rong said on Wednesday evening.
"Shenzhen's urban services, infrastructure, image, the manners of local citizens and the quality of life will all be improved through preparations and hosting of the 2011 Summer Universiade," Wang said.
He made the remarks to visiting officials led by President George E. Killian from the International University Sports Federation (FISU) who traveled to Shenzhen for the federation's executive committee meeting.
Shenzhen, a young city with a young population of migrants, won the bid to host the 26th Summer Universiade in 2007.
The acting mayor took the Universiade flag from Killian at the closing ceremony of the 25th Universiade in Belgrade, Serbia, last July.
"We have moved on smoothly in accordance with our timetable, including formulating rules and regulations, constructing sports venues and building internal organizations," said Wang.
The 86-year-old FISU president said student athletes at the 26th Universiade will have the "time of their lives" in the city.
"If could turn the clock back, I would come here and roll in the wonderful sites that you have created," he said.
During his inspection tour, the FISU convoy made a surprise stop at Dafen oil painting village, one of the largest painting export markets in the world, which exports paintings worth about $500 million every year.
The FISU executive committee meets at least twice a year to make decisions about the functioning of its events.
(China Daily 05/14/2010 page24)