SHENZHEN - The Universiade will remain a vital event, satisfying the diverse sporting needs of university students, a top official from the event's organizing committee said.
George E. Killian, president of the International University Sports Federation (FISU), which started the Games that date back to 1924, also said he was not concerned about professional sports encroaching on Universiade turf.
"We are not in the same group. Universiade will always focus on university students and encourage more of them to take sports as a hobby and participate in games," Killian told China Daily.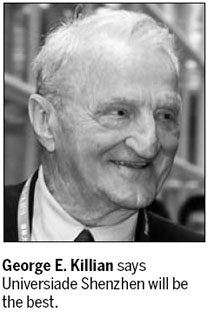 Killian arrived in Shenzhen, host city of the 2011 Summer Universiade, on Monday to attend the federation's executive committee meeting, which is being held in China for the first time.
Although sponsorship is important to the Games, Killian said it would never be a criterion used to decide the success of a Universiade.
"It's not a business. We are not making money from it," he said.
Affected by the world economic crisis, Belgrade, the host city of the 2009 Summer Universiade, could only build two new sports venues and cater for 15 events, yet it still won top marks from Killian for its excellent organization and enthusiastic and diligent volunteers.
Based on the successful 2001 Summer Universiade in Beijing and 2009 Winter Universiade in Harbin, Heilongjiang province, Killian said: "I am sure Universiade Shenzhen will be the best."
He said he was impressed by the speed of construction after the local government poured in almost 10 billion yuan to build 22 new sports venues and six non-competition sites, including the Universiade village and media center. Also, 36 existing facilities have been upgraded for an event which will host 24 sports and offer 302 gold medals.
The city has taken the opportunity of hosting the international sporting gala to improve its infrastructure and sharpen its image, both locally and abroad.
In addressing the needs of local residents for more sports facilities, Killian reminded the Shenzhen government to make good use of the buildings after the Universiade.
China Daily
(China Daily 05/14/2010 page23)