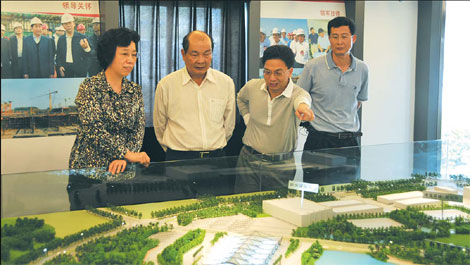 Chen Xiaoya (left), vice-minister of education, makes an inspection tour to the Universiade Center.
A successful, stylish and dynamic 2011 Universiade will sharpen the image of the fast-growing southern city of Shenzhen, further enhancing the reputation of the seaside boomtown famous for its bold reforms and economic miracles over the past 30 years.
Terming the Universiade "a grand party for global youths", the government of Shenzhen is laying out the welcome mat for more young people, more universities and more students from home and abroad to participate in the international sporting event to be held from August 12 to 23 next year.
At least 10 billion yuan will be invested in building and revamping city sports venues and facilities, according to official estimates.
The government will highlight Shenzhen's character as a forerunner in reform and opening-up and a youthful, fashionable place with unlimited innovative strength, said Shenzhen Party Secretary Liu Yupu and Acting Mayor Wang Rong in a recent meeting.
"We are going to give a deeper impression to the whole country and even to the whole world about how amazing and how special the city is during preparations for and hosting of the Universiade," said the top officials.
The massive investment will be used to fulfill a commitment to the International University Sports Federation (FISU) - to offer the most excellent, successful and influential Universiade ever.
As one of the most important international sports events in 2011, the 26th Summer Universiade is also supported by the central government.
Approved by the State Council, the Organizing Committee of the Universiade Shenzhen 2011 was officially founded in early March with Yuan Guiren, minister of education, and Liu Peng, minister of General Administration of Sports, as chairmen. Huang Huahua, governor of Guangdong, is executive chairman of the organizing committee.
Officials from 27 central government departments - including publicity, foreign affairs, public security, transportation and taxation - are also members of the organizing committee.
Their work is expected to see sports venues put into trial operations by the end of this year.
Current status
Established last December to provide a fair and transparent communication between sponsors, official media partners and the executive office of the organizing committee, the Universiade Federation will hold its first meeting in April.
The executive office will sign agreements with media partners and sponsors during the meeting and announce governing rules for the federation.
The FISU Executive Committee will host a meeting from May 12 to 15 in Shenzhen that will include representatives from candidate countries to bid for 2015 summer and winter Universiade attending the closed-door sessions.
(China Daily 04/09/2010 page15)