SHENZHEN: This southern boom town could play a more significant role globally by enhancing its competitive edge through cooperation with the neighboring cosmopolitan Hong Kong.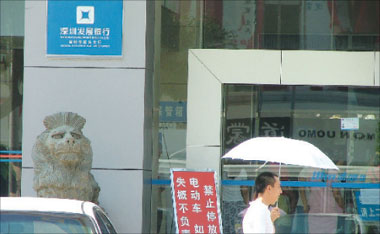 An outlet of the Shenzhen Development Bank in Shenzhen. The city has been urged to enhance its innovation capacity and sharpen its competitive edge. Zhang Ting
"Shenzhen is striving to become a national innovation-driven city, whose competitors are no longer domestic cities but international leading players," said Wei Dazhi, director of industrial economy research center of Shenzhen University.
Wei's remarks came after Wang Yang, the newly-appointed Party secretary of Guangdong Province, called on officials in Guangzhou and Shenzhen at the end of last year to enhance the cities' competitiveness, so that they could throw the gauntlet to the countries like Singapore and South Korean.
Wei said the top leader's dream could come true if Shenzhen and Hong Kong could be developed into a real common market that could share all resources.
Currently, the two cities should develop a sound knowledge-based innovation system, since innovation is the key tool to fuel economic growth, he said.
"Shenzhen has very strong capabilities in technological innovation that tops the country in terms of invention and patents for two consecutive years," said Wei.
More than half of the exports from the city are hi-tech products and more than half of the hi-tech products made in Shenzhen are with self-possessed intellectual properties, according to government figures.
However, the city lacks renowned universities, and it fails in attracting top-notch scientists and researchers, he added. However, this could be complemented by Hong Kong's advantages as the universities there have world's top talents who are given attractive pay.
"How to develop a workable mode to combine the strength of the two cities could be a national strategy. A mega-city of Shenzhen and Hong Kong could surely take an important position in the global community," Wei said.
The implementation of the Mainland-Hong Kong Closer Economic Partnership Arrangement has removed the obstacle of tariff, he noted, adding that the two cities could actively seek cooperation in the fields of technology, culture and education.
He made the remarks at the annual meeting of CFO Club, a leading society for chief financial officials of Shenzhen organized by Hangming Business Consultant Co, recently.
Le Zheng, president of Shenzhen Academy of Social Sciences, said the city should widen its scope and officials must have innovative minds for the city to become the world's leading cosmopolitan.
He suggested the government attach much importance to helping local companies build brands and grow into transnational corporations, developing world-class IT industrial base, ports and promoting closer relationship between Shenzhen and Hong Kong.
(HK Edition 01/26/2008 page2)