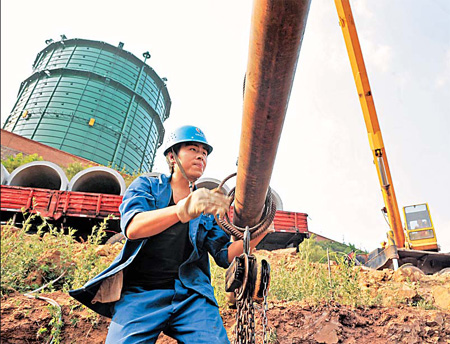 A worker fixes a pipe at a gas power plant in Shanxi province on Monday. The plant uses waste coal bed gas to generate electricity as part of efforts to reduce air pollutants. [Zhao Zhinian / Xinhua] 


Govt to stem 'uncapped supply, uncontrolled use' in areas
BEIJING - Authorities will restrict energy supply in areas with excessive increases in energy usage and high energy-consuming industries, said a high-ranking official with the National Development and Reform Commission (NDRC), the country's top economic planning body.

The practice of uncapped energy supply and the uncontrolled use of energy will change with the new moves, Xie Zhenhua, deputy minister of the NDRC, said in a statement published by the People's Daily on Wednesday.
Starting from June 1, the NDRC has ordered enterprises using high levels of energy to be excluded from enjoying discounted electricity rates.
The central economic planner will also launch nationwide inspections to enforce the new moves, the statement said.
Such enterprises will also be required to limit or stop production, it said.
The country's goal of curtailing its energy usage and cutting carbon emissions has met with difficulties as a pickup in the demand for energy-guzzling products pushed up the need for power.
Related readings:


 China seeks advice from industrial workers on energy saving


 NDRC: China striving to reach energy-saving goals

 Govt's energy-efficiency push bodes well for LED sector

 Huaneng to invest 100b yuan for energy development in Xinjiang

Preliminary estimates showed that the energy use for every unit of gross domestic product, a measurement of China's energy consumption, rose in the first quarter by 3.2 percent from a year earlier, Xie said.
Last year, the country's energy consumption fell 2.2 percent, failing to meet an annual target of 4 percent.
China plans to cut its energy use by 20 percent below 2005 levels by the end of this year, according to a five-year energy-saving plan from 2006 through 2010.
The NDRC will also tighten its supervision of energy-saving practices in a number of key areas to meet the goal, Xie said. These key areas include large energy-consuming provinces such as Guangdong, Jiangsu and Shandong. In other provinces like Sichuan and Shanxi, energy consumption has grown so swiftly in the first five months of this year that supervision will also be boosted, he said.
Energy-saving moves in the past four years have fallen behind schedule, Xie said.
Only about half a year is left to make up for the lag, he said.