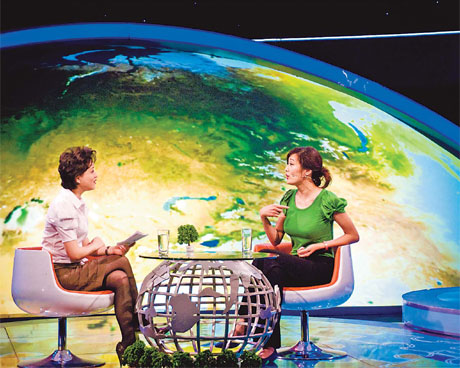 Yang Lan (left), one of the most famous TV personalities in China, talks with Taiwan model and actress Jessey Meng on her new program. Photo provided to China Daily
Yang Lan talks about her new program on the environment with METRO's Qin Zhongwei
One of the most famous faces on Chinese television says she will focus her attention on helping make the country greener.
Forty-one-year-old Yang Lan, has been a household name for two decades.
And it has been 10 years since she launched her first high-end talk show, Yang Lan One on One.
As host of the popular program, she has interviewed all the big names in China and several world leaders.
Five years ago, she started to host her second prime-time chat show, Her Village, through which she has talked to hundreds of women from all walks of life.
Yang, who today is arguably the most famous TV personality in China, now says she wants to help Chinese people become more environmentally aware.
Green Impact will make its debut through domestic Travel TV by the end of May.
The weekly program will call upon public figures and ordinary citizens to share their experiences in environmental protection and give people a platform to share tips on making the world a greener place.
"We don't want to approach it like we are lecturing people but rather make it interesting and practical," she told METRO.
Yang said she and her team have been developing the idea since the end of last year.
Among the recorded programs are appearances from Pu Cunxin, a stage actor, and pop singer Yang Kun who share their life experiences and offer useful tips on such things as how to modify a toilet to save water and the importance of taking your own chopsticks to a restaurant so you don't have to use disposable ones.
"It may seem trivial but these things really matter to the earth that we live on," said Yang Kun.
Each show will also have a question-and-answer session during which all guests will answer the same seven or eight questions.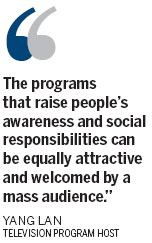 Yang and her production team has a rule for the Q&A sessions; if a guest gives a wrong answer, he or she must plant a tree in Beijing's suburbs. If the guest gets the answer right, the production team will do the spadework.
"So far, each guest on our show has been very happy to take the challenge and they have also been delighted to take the 'punishment' if they lose," she said.
To make the program more interactive, an online campaign will be launched at the same time as the show debuts, aimed at selecting the most practical methods of environmental protection suggested by Internet users.
Yang is hoping the show becomes the latest in a long run of success stories she has been involved with that began in 1990, when she fronted Zheng Da Variety Show, the most popular variety program on CCTV.
She says that quality is still the most important ingredient when making television in an increasingly competitive but homogeneous market.
Yang said the trend for entertainment programs to mimic their Taiwan counterparts, which are known for being hilarious in a crazy way, is not enough.
In her eyes, entertainment should be more than simply "entertaining".
"We discussed and researched a lot and we don't think the entertaining programs should all look the same," she said. "The programs that raise people's awareness and social responsibilities can be equally attractive and welcomed by a mass audience."
During the Mother's Day edition of Her Village, Yang invited into the studio two middle-aged women who had each lost their sole child during the 2008 Sichuan earthquake.
The women were both pregnant again and starting to feel hope for the future.
The show not only earned the sympathy of the audience, but high ratings.
As a high-profile TV host and successful businesswoman, Yang today is not only looking to promote public awareness and social responsibility on her new program, but is also using her star power to do it off-screen.
After being chosen as the image ambassador for Beijing's bid for the 2008 Olympic Games and for the 2010 Shanghai World Expo, she is now devoting one-third of her time to charity through her foundation and the many charitable roles she has taken on.
With so many people and organizations today involved in charity work, she said the challenge is not finding the love in society but in "managing" that love so it is most useful.
Which is why she cooperated with Peking University and Harvard University in 2007 to hold training classes for charitable organizations.
"When you have 100 yuan to help out, for example, you certainly know how to make use of the money. But when you have 10 million yuan, say, maybe you will be unclear about how to get the most charitable value out of the money.
"A sound system and scientific management will guarantee our love is sustainable and will play its biggest role. This is what I firmly believe," she said.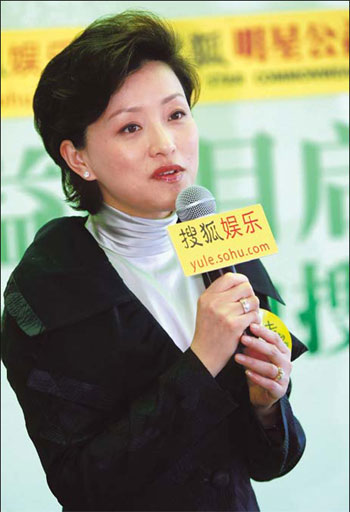 Yang Lan launches a website to promote public welfare. Zhang Wei / Beijing Times
(China Daily 05/24/2010)