SHANGHAI: Shanghai Zhenhua Heavy Industry Co (ZPMC), the world's largest port equipment maker, is planning to expand into the nation's high-speed railway and wind power sectors, making them its new growth engines, company President Kang Xuezeng said on Friday.
"Our next step is to apply our home-grown electric control systems and gearboxes to the two rapidly growing industries," said Kang.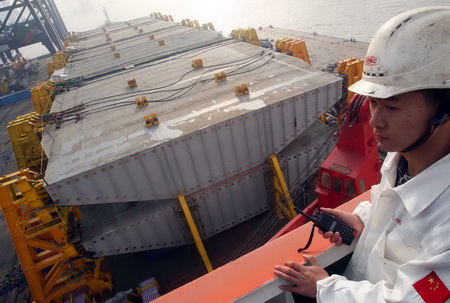 A Shanghai Zhenhua Heavy Industry Co employee supervises the loading of containers at Shanghai port. The company has a 70 percent share of the global port equipment market. [CFP]
Representatives of China South Locomotive and Rolling Stock Industry (Group) Co (CSR) attended a promotion conference on ZPMC's gearboxes, spreaders and drives in Nantong, Jiangsu province, on Friday.
CSR, the country's largest trainmaker, is the manufacturer of "China Star" and "Central China Star" high-speed trains.
"The market demand for high-speed rail is huge, and we are very interested in participating in this sector," said Kang.
"It's no surprise that ZPMC's has ambitions in this sector, as most of its products used in ports are compatible with high-speed trains," said Zhang Zhongjie, an industry analyst at Essence Securities.
China plans to build 16,000 km of high-speed rail lines by 2020, according to the Ministry of Railways. Forty-two high-speed rail lines totaling 13,000 km will be completed by 2012.
Kang also said ZPMC is currently in talks with several firms to develop gearboxes that can be used in the wind power sector.
ZPMC's key businesses, including yard and quay cranes, were hit hard last year as port operators and shipping firms cut capacity due to the global financial crisis.
ZPMC has a 70 percent share of the global port equipment market, according to Kang.
ZPMC forecast in its annual report to the Shanghai Stock Exchange that its net profit would decline by up to 70 percent in 2009. The barge crane manufacturer posted a net profit of 2.55 billion yuan ($374 million) a year earlier.
The market value of the port-related sector declined 60 percent during the financial crisis, Kang said.
Related readings:


 China 'not suitable' for wind power generation


 Wind power factories called 'image projects'


 China to become world's 3rd largest wind power producer


 Capacity of China's 1st massive wind power base hits 2 gW


 Chinese company to develop new energy in northeast
The company said that sales of its Global Positioning System products used in yard cranes dropped to 44 units in 2009 from 127 in 2008.
"We received more contracts during the first months of 2010 compared with the previous year, but difficulties will continue (therefore), we have to adjust our product structure this year, aiming to speed up the promotion of home-grown components with cutting-edge technologies and high added value," Kang said.
Essence's Zhang pointed out that the profit margin of components is about 20 percent, compared with 8 percent for yard cranes and 15 percent for quayside cranes.
According to Kang, components, most of which are currently made by foreign firms, account for half of the costs of integrated port equipment.
"We will make more efforts in developing components to cut the overall costs and in turn, improve our competitive edge," he said.
But the components market will take time to grow, and may not see a profit in the short term, Kang said.