Continued growth, low-carbon initiatives offer foreign investors 'good opportunities'
TIANJIN - Business leaders and scholars defended China's domestic investment environment and government procurement policy at the Summer Davos Forum that opened on Monday.
Some executives at multinationals recently voiced concern about potential unfair treatment in government procurement and worried publicly about China's investment environment.
But Takeshi Niinami, president and chief executive officer of Lawson, a Japanese provider of business software solutions, said he has not witnessed problems.
"Major cities other than Beijing, Shanghai and Guangzhou are keen to attract foreign capital," he said at the Summer Davos on Monday.
Competition between cities other than those big three has resulted favorable policies for foreign investors, he said.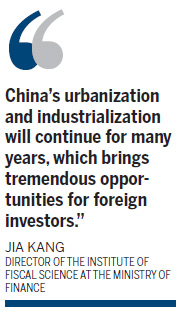 Jia Kang, director of the Institute of Fiscal Science at the Ministry of Finance, said China continues to offer good investment opportunities as the economy expands.
"China's urbanization and industrialization will continue for many years, which brings tremendous opportunities for foreign investors," he said at a group debate of the Davos forum.
Compared with other emerging economies, China's policies are relatively stable, which provides an anchor of confidence for foreign investors, he said.
Multinationals can also benefit from the country's favorable sector-specific policies such as those for low-carbon sectors.
"Foreign investors usually have a competitive edge in this respect compared with domestic companies and they can get access to the favorable policies relatively easily," Jia said.
Jia said China is still testing the waters on its government procurement policy as it is a new aspect in the market economy that itself began as an experiment in the late 1970s.
"We are measuring whether the policy should include clauses that favor domestic enterprises, as some Western countries have done," he said.
United States has received criticism for "Buy American" clauses in its economic stimulus measures in response to the global financial crisis.
In 2007, China submitted a plan to the WTO for joining the government procurement agreement (GPA), and held negotiations with five GPA members including the US, South Korea, Japan, Canada and the European Union. The proposal was turned down and China was required to make adjustments to its plan.
China has offered a new proposal this summer to increase foreign companies' access to its government purchases.
But Jia said the emerging market economies should be given some special consideration.
He expected discussions to take five to 10 years before China's proposal is accepted by other countries. "But once agreement is reached, China will be very serious in implementing the rules," he said.