Spring Festival drives up CPI in Feb
Updated: 2013-03-22 13:48
According to data from the China National Bureau of Statistics of China (CNBSC), the CPI in February increased 1.1 percent compare to January, a 3.2 percent growth year on year.
The Spring Festival was the primary fresh fruits, vegetables, fish and meat. Furthermore, the smog effected transportation, which had a positive effect on prices. In February, the price of fresh fruits, vegetable, fish and meat increased by contributing factor to the surge in the CPI. The Spring Festival usually leads to a significant increase in the consumption of 11 percent, 6.9 percent, 5.9 percent and 2.4 percent respectively, compare to January. Price changes in these four food products accounted for 70.9 percent of the CPI change, 0.78 percent of the 1.1 percent from January. Other consumer products had less than 30 percent of an effect on the overall CPI.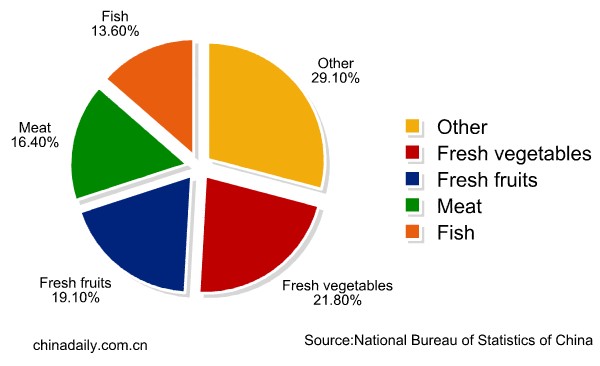 Growth factors of Feb's CPI
The reference period also pushed up the year on year CPI in February. The Chinese Spring Festival is based on Chinese traditional lunar calendar, rather than the Gregorian calendar. In 2012, the Spring Festival was in January, therefore, the higher CPI growth rate was recorded in January and by February 2012, the price's upward momentum was already exhausted, thus the January's CPI was lower year on year compared 2013. The lower CPI in January 2013 coupled with the Spring Festival shopping spree in February contributed to a higher monthly CPI in February.
Seasonal price fluctuation was evident surrounding the Spring Festival. During the holiday, food prices generally rise significantly and return to a normal level,after the holiday. According to data from the past five years, the CPI during the Spring Festival is expected to be on average 1.5 percent higher than the previous month, and drops 0.3 percent on average in the next month.