Editor's note: The 2013 Central Economic Work Conference, an annual tone-setting economic meeting attended by top Chinese leaders, opened in Beijing on Dec 10, 2013. The four-day meeting reviewed China's economic progress in 2013 and listed six major tasks for 2014. It concluded with a statement calling for deeper reforms and steady growth.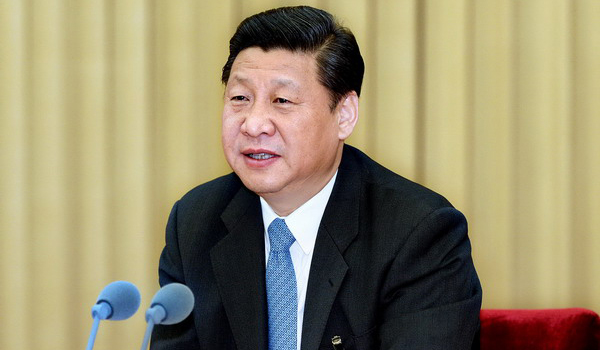 President Xi Jinping speaks at the annual Central Economic Work Conference in Beijing, Dec 13, 2013. [Photo / Xinhua]
Top leaders vow to steer steady path
China will seek steady economic progress by making more reforms in all areas.
During the four-day meeting that started on Tuesday — longer than the two-to-three-day events in previous years — President Xi Jinping and Premier Li Keqiang called for reform to be spread to every area of economic and social development.
To boost the reforms, top leaders asked all local governments and central government departments to set up a branch organization to specialize in reform in their areas.
This followed the decision at the Third Plenum to form a high-level commission to coordinate nationwide reform efforts.>>>
HIGHLIGHTS OF THE CENTRAL ECONOMIC WORK CONFERENCE
 

 

China sets sights on reform, stable economic growth

China will maintain continuous and stable macroeconomic policies in 2014, said the head of the country's top economic planning agency on Sunday.

Xu Shaoshi, chairman of the National Development and Reform Commission, made his remarks following the statement issued on Friday after the four-day tone-setting Central Economic Conference, attended by top Chinese leaders.

The statement said "the core is to seek steady progress and promote reforms and innovations" to soundly manage economic work next year.>>>

Fiscal, monetary settings stay steady next year

China will maintain its "proactive" fiscal policy and "prudent" monetary policy next year, said a statement released after the conclusion of the annual Central Economic Work Conference on Friday.

A "prudent" monetary policy includes keeping the growth of credit and social finance aggregates at a "reasonable" level, said the statement. Any macroeconomic policies must conform to the "spirit of reform", indicating that monetary policy might take new forms.

The meeting didn't release a GDP growth target for 2014, but economists believe it will remain the same as this year at 7.5%.>>> 

 

 

China vows to safeguard national food security

China will safeguard national food security and continue to pursue the sustainable development of agriculture, according to a statement issued after a four-day central economic work conference on Friday.

A national food security strategy based on domestic supply and moderate imports will be followed. It will ensure production capacity and endorse science and technology, the statement said.

The country will focus on both quality and quantity of agricultural products, food safety, supervision of the production source and the whole sales process, said the statement.>>> 

 

 

Local govt debts get high-level attention

China has identified "containing local government debt risk" as a major task for next year's economic policy, underscoring Beijing's growing concern about local governments' excessive borrowing.

In an announcement following the annual Central Economic Work Conference, the Communist Party of China vowed to treat the debt issue as a critical task and promised to put different kinds of debt under broader budget management.

"Governments at various levels have to be held accountable for government debt within their jurisdictions. Education and evaluation should be strengthened to put right any incorrect official performance orientation," the announcement read.>>> 

 

Slashing capacity 'prime task' for 2014

Tackling excess capacity will be one of the top tasks on China's economic agenda in 2014, as the issue becomes a major challenge to maintaining the pace and quality of economic growth.

"The Chinese economy still faces downward pressure next year," the Central Economic Work Conference pointed out on Friday, citing the capacity issue weighing down some sectors as one of the major challenges facing the world's second-largest economy.

The key annual economic meeting, which sets the tune for the following year's economic policy, vowed to make strenuous efforts to adjust the country's industrial structure by eliminating obsolete and unneeded capacity and promoting innovation-driven growth.>>> 

 

Reform, quality of economic growth stressed

Even though the Chinese economy is still growing at a robust pace, the government must be aware of the pressures caused by the slowdown in growth, said the statement of the just-concluded Central Economic Work Conference.

The document also warned of the serious overcapacity in some industries, labor problems, the worsening environment, food and drug safety issues and public security conditions.

The statement stressed that reform is the core task for next year's economic work, and that the reform blueprint mapped out in the Third Plenum of the 18th Central Committee of the Communist Party of China points out a clear direction for further reform and prioritizes the quality of the development process rather than the speed of growth.>>> 
ECONOMIC PREVIEW FOR 2014
Exporters to see better days as demand rises

China's foreign trade is likely to grow faster next year as overseas demand improves, experts said.

The consensus forecast is for total trade growth of up to 10 percent. In the worst-case scenario, total trade may only expand about 8 percent, equal to this year.

China is the world's largest exporter and second-largest importer.

Although the improvement of overall foreign trade will not be hugely significant next year, the growth pace will still outstrip the world average.>>> 

 

Steel sector still facing profitability problems

Chinese steelmakers' profits will remain low next year as output remains high and demand growth slows, said industry experts.

The ratings agency Moody's Investors Service said on Wednesday that its outlook for the Asian steel and coal sectors is negative for 2014.

According to its just-released report 2014 Outlook - Asian Steel and Coal, Oversupply and Weak Prices Drive Negative Outlooks - demand for steel will increase a modest 2 to 3 percent next year as the Chinese government tolerates slower gross domestic product growth and shifts economic growth drivers to domestic consumption from infrastructure spending.>>> 

 

Reforms to boost asset markets, experts say

The reforms outlined in November's Third Plenum are expected to benefit the regional asset market and provide opportunities to overseas investors, experts said at an investment conference organized by Credit Suisse in Hong Kong on Wednesday.

"The reforms are the deepest and most comprehensive ones in the past three decades. The plan will lead to structural transformations and benefit the country's economy in the long term," said Fan Cheuk-wan, Credit Suisse's Asia Pacific chief investment officer.

The reforms of the fiscal system and urbanization drive and the relaxation of the one-child policy will pick up pace in 2014, Fan said, adding that related sectors will warm up in stock markets next year.>>> 

 

Reform 'means slightly slower growth'

Analysts are issuing their forecasts for China's 2014 outlook. Many believe that GDP growth will be as strong as this year — or maybe a bit lower — as the nation carries out reforms.

This year, GDP growth is likely to be 7.6 percent, just a touch above the official target of 7.5 percent.

Global demand for Chinese products is likely to improve in 2014, so the government doesn't need to make any deliberate attempt to push the growth rate back above 8 percent, analysts said.

Some key think tanks have already suggested that the growth target should be lower next year.>>> 

 

Nation faces task of reviving growth

If anything, the experience of 2013 shows more clearly than ever the limits of China's old economic model.

The nation's leaders openly acknowledged as much in the resolutions adopted by the recent Third Plenum. The one-sided pursuit of GDP growth is unsustainable, the excessive dependence on growth driven by exports and government investment is unsustainable and the current system of urbanization is also unsustainable.

So 2014 should be a year of action to implement the reform plans laid out by the Third Plenum, economists agree. Although it will take time for all of the desired changes to occur within all industries, the real key is the reform of the government's financial leadership and financial services industry. Financial reform is the priority - that's the message China Daily received when it interviewed economists this week.>>> 

 
BASIC TONES OF PREVIOUS CENTRAL ECONOMIC CONFERENCES