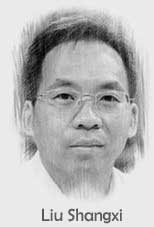 Stimulus to simply make the GDP growth figure look better would be unnecessary, as the current economic situation is not yet in the worst shape as seen during the 2008 crisis, when the government conducted a massive stimulus package.
To evaluate the real economic situation, a key indicator to be monitored is the employment rate, rather than GDP and other data, and the job market looks fine at the moment.
During the 2008 crisis, many businesses stopped hiring because of shrinking orders, but what we've seen recently is employers paying higher salaries to get staff, which means that business activities are still robust.

I wouldn't call the current surge in consumer prices "inflation", as the CPI was mainly pushed up by the prices of food such as vegetables and pork, which account for a large percentage in the basket.
Changes in food prices are not really the result of excessive liquidity; thus, further monetary tools wouldn't be the best choice in curbing prices.
A major reason for surging vegetable prices is that much farmland has been converted as a result of the urbanization process, which has forced farmers to relocate far from cities, leading to an increase in logistics costs.
To effectively reduce food prices, the government needs to work on building more vegetable planting bases and reduce logistics costs.

There is absolutely no need to remove the curbs on the property market, as housing prices will rebound, if policies show any signs of relaxing.
The property market will not return to the track of sound development unless it experiences a definitive "break".
Local governments may look for the relaxation of real estate policies as a result of their own interests, but top-level decision makers, based on general considerations, won't loosen controls in the near term.
Many are hoping that restrictions will be lifted as the property tax pilot program is expanded. However, the two aren't actually interchangeable, and the limits won't go unless more speculative capital is wrung out of the property market.

A proactive fiscal policy would be beneficial for boosting domestic demand, but a massive stimulus similar to the 4-trillion-yuan package in 2008 is no longer feasible. The policy focus should be more on structural tax cuts rather than investment incentives.
Incentives should also focus more on reducing the tax burden for small and medium-sized enterprises, creating a friendlier environment for start-ups at the grassroots level, and strengthening professional training for employees.
Fiscal support should be directed more to benefit consumers rather than producers, and public spending should be more people-oriented.
------- Liu Shangxi
deputy director of the Fiscal Science Research Center at the Ministry of Finance