Remake, Remodel, Rebrand
Updated: 2011-08-01 09:40
By Chen Jia (China Daily)
| | | | | | | | | | | |
| --- | --- | --- | --- | --- | --- | --- | --- | --- | --- | --- |
|   | | Comments() | | Print | | Mail | | Large Medium  Small | 分享按钮 | 0 |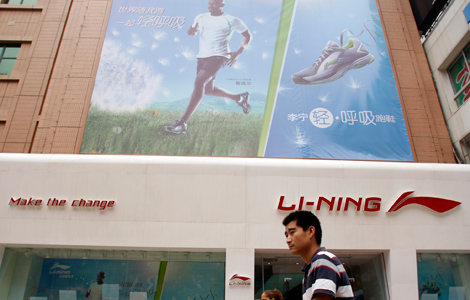 A Li-Ning store in Wangfujing Street in Beijing. Chinese brands have yet to make their names known to the international audience despite the country's rapid rise as the world's second-largest economy and largest exporter. [Photo / China Daily] 
Chinese firms need to raise their game to gain international recognition
BEIJING - Every day, tens of thousands of Chinese products are exported to almost every corner of the globe. However, in the eyes of foreign consumers they all simply have the same label, "Made in China".
So far, few Chinese brands have managed to leave a real imprint in the minds of Western consumers, prompting the nation's business owners to reconsider their international branding strategies.
Last year, Lenovo Group Ltd, the biggest computer-maker in China, delayed launching a large-scale brand promotion campaign in the United Kingdom (UK), because of depressed sales of computers in the UK, a country where the company's brand awareness is lower than it would like.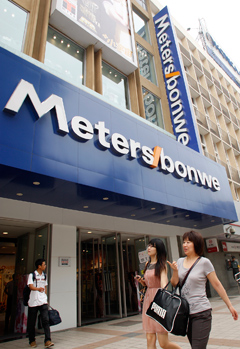 People walking past an outlet of a domestic sportswear retailer in Wangfujing Street in Beijing. Chinese companies face the challenge of brand-building when they expand overseas. [Photo / China Daily]
"Not everyone has heard of us or knows what Lenovo is. So when you go into retail in a country, you have to make it go together with branding," said Milko van Duijl, Lenovo's president for all "mature" markets outside China, in a recent interview with the UK-based Daily Telegraph newspaper.
By the end of June, Lenovo had become the world's third-largest producer of personal computers, ranked only after the global giants Hewlett-Packard Co and Dell Inc.
Lenovo's global market share increased to 12.2 percent in the second quarter, according to a report from International Data Co, a provider of information technology advisory services.
However, the key market for Lenovo is still China. Reading its cryptic logo, "For those who do", foreign consumers may be hard pressed to realize that Lenovo is a provider of laptops, desktops and tablets. To improve its brand awareness in the UK retail market, the company needs to invest heavily in media and promotion, according to Van Duijl.
One recent positive for the brand was that it was cleverly advertised in a Hollywood movie called Transformers: Dark of the Moon. In the movie, a computer transforms into a robot friend of the hero, Shia Labeouf -and the name of the computer company is there for all to see: Lenovo.
"Chinese enterprises are looking for better opportunities to promote their brands in the global market, and Hollywood movies are good platforms for expressing brand image as Chinese companies embrace Western culture, which is familiar to the target audience," said Liu Siru, head of the advertising company Filmworks China Entertainment Marketing Ltd Co, which is operating in the US movie hub.
Besides the product itself, brand becomes more important for a company to build its core competitiveness and add value in the modern business world. The pace of overseas expansion for Chinese companies is often dictated by whether their brand image can be easily identified by foreign consumers, according to analysts.
"I like Chinese products, because they are inexpensive. But I remember hardly any Chinese brands," said Arjan Benit, a Dutch student of Business Studies at Luton University in the UK. A report from the brand consultancyInterbrand Co, failed to include even one Chinese company in its "Best 100 Brands for 2010" list.
Explaining the brand
Wangfujing Street in the center of Beijing is one of the world's most famous commercial thoroughfares, similar to London's Oxford Street, the Champs Elysees in Paris and Rodeo Drive in Los Angeles. Billboards and electronic advertising screens for Gucci, Burberry, Nike, Haagen-Dazs and other famous international brands are widespread, hanging from top to bottom of the tall buildings flanking the pedestrian walkway.
A large flagship store of the Chinese sports-clothing brand Li-Ning Co Ltd is located in the street, and its exterior walls bear a two-story-high poster advertising the company's new high-tech running shoes. In the picture Asafa Powell, a gold medal winner with the US 4400 relay team at the 2008 Beijing Olympic Games, is running with a big smile on his face and Li-Ning shoes on his feet.
The company was launched in 1989 and is named after its founder Li Ning, who is routinely referred to as "China's best gymnast."
Pocketing three gold medals at the 1984 Los Angeles Olympic Games, Li also won six out of the seven gold metals on offer at the 6th World Cup Gymnastics Championships in 1982, a record no Chinese athlete since has managed to surpass.
The company grew rapidly in China in the first ten years after its launch, thanks to Li's personal charisma. Li-Ning opened its international trade department in 1999 when it started its overseas expansion strategy. In 2004, the company listed successfully on the H-share market of the Hong Kong Stock Exchange, raising capital to strengthen brand promotion and enlarge its global sales network.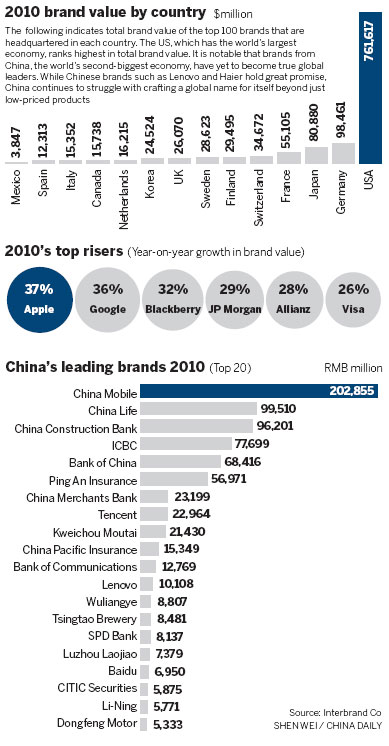 However, Li-Ning's "Going Abroad" strategy didn't produce the desired result. Its annual revenue from business outside China declined to 1.3 percent of total revenue in 2005 from 2.4 percent a year earlier, prompting the company to reconsider its international growth path, according to a report in China Management Magazine.
Zhang Zhiyong, the CEO, decided to slow down the expansion of sales overseas while improving the company's global advertising and rebuilding its brand image. "We try to be different from other Chinese companies that win market share by providing low-price goods. We hope to increase the added-value of the brand first," said Zhang.
Last year, "Make a Change" became the new logo for Li-Ning. The company's previous logo, "Anything is possible", was perceived by consumers as being too similar to the "Nothing is impossible" logo employed by Adidas AG. Meanwhile, Li-Ning chose internationally famous foreign athletes to be its brand spokespersons.
Mike Bastin, an academic who specializes in branding and marketing at Tsinghua University in Beijing, said that Li-Ning's new logo fails to express the true spirit of the company. "Consumers may not understand what kind of changes the company can make through its new logo. Maybe it is because of the difference in language between Chinese and English," he told China Daily.