Import growth lowest in 20 months
Updated: 2011-07-11 09:01
By Ding Qingfen (China Daily)
| | | | | | | | | | | |
| --- | --- | --- | --- | --- | --- | --- | --- | --- | --- | --- |
|   | | Comments() | | Print | | Mail | | Large Medium  Small | 分享按钮 | 0 |
Domestic demand declines as tightening measures take effect
BEIJING - The pace of China's import growth in June fell to its lowest level in 20 months as tightening monetary policies kicked in, resulting in the biggest monthly trade surplus this year, official statistics show.
Import growth is expected to slow in the coming months, thanks to the broad impact of the tightening measures, before picking up in the last quarter, economists predicted.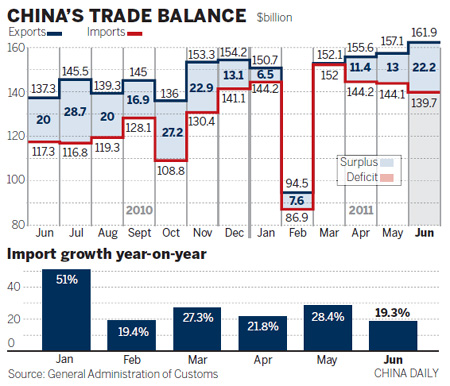 According to the General Administration of Customs (GAC), imports rose 19.3 percent, from a year earlier, to $139.7 billion, the weakest since November 2009.
Exports rose 17.9 percent and despite this being the smallest increase since last December they reached a record high of $161.9 billion.
The decline in import growth has led to a widening trade surplus, $22.3 billion in June compared to $13.1 billion in May. But in the first six months the trade surplus dropped 18 percent, year-on-year, to $44.9 billion.
"Import growth was weaker than expected, as imports for China's processing trade weakened and de-stocking in heavy industry continued," Wang Tao, head of China Economic Research at UBS Securities, said.
"Recent commodity price drops, including crude oil, also helped lower the import bill," she added.
June's net imports of crude oil fell 12 percent from May to 19.43 million metric tons, the lowest since October, amid refinery maintenance and slowing energy demand, according to the GAC figures.
"Decelerating economic growth and tightening measures to soak up market liquidity have reined in import growth, but it is not a cause for worry," Li Wei, an economist at Standard Chartered Shanghai, said.
The government is expected to announce economic growth data for the second quarter on Wednesday. Gross domestic product growth is widely predicted to slow from 9.7 percent for the first quarter.
"The slowdown in import growth will last two to three months or even longer due to both falling demand and possible commodity price drops," Li said.
Zhong Shan, vice-minister of commerce, said recently that imports will slow down in the second half, citing the government's measures to cool the economy.
The central bank has raised interest rates five times since mid-October, with the latest on July 7, and increased the reserve requirements for commercial banks, the amount they have to set aside, nine times since November. The consumer price index, a major gauge of inflation, surged to 6.4 percent last month, the highest in three years.
Zhao Fudi, GAC spokesman, said in an online broadcast on Sunday that higher prices are increasing inflationary pressure, leading to a 14.7 percent gain in the overall price of imported commodities in the first half.
Imports surged 27.6 percent year-on-year to $829.4 billion from January to June, as commodity prices rose during the first half. Exports increased 17.9 percent in June, down from 19.4 percent in May.
"This is because of weaker external demand" from developed nations, Wang said.
Exports increased 24 percent, year-on-year, to $874.3 billion during the first half, but exports to both the United States and the European Union, China's two major trading partners, rose by only 16.9 percent.
"The slow recovery of the global economy and the European debt crisis have added uncertainties to export growth," Zheng Yuesheng, head of the GAC statistics department, said.
Lu Zhengwei, chief economist at Industrial Bank, believes that the March earthquake and tsunami in Japan hurt China's exports.
"The disaster cut off China's imports of parts and components used for mechanical and electrical goods, leading to a decline in those exports" which make up a majority of China's exports, Lu said.
As Japanese manufacturers resume full production, or come close to it, in September, China's exports will regain momentum, he predicted.
Li Wei agreed. "China's exports keep pace with the global economic recovery. And growth will probably see a turnaround in September" when orders for the Christmas season are usually made, Li said.
Many companies in China's coastal regions are far from optimistic, citing rising costs in labor and raw materials and yuan appreciation, as well as shrinking demand abroad.
Han Jie, deputy director general of the department of commerce in Zhejiang province, said "exporters in Zhejiang have experienced a disappointing first half, and the second half will not be better".