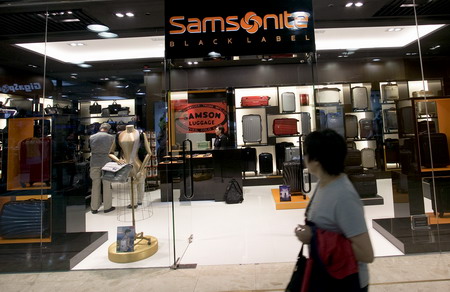 A Samsonite International SA's retail store in Hong Kong. Stock prices of the US-based luggage maker have fallen 11 percent on its initial public offering debut in Hong Kong on June 16. [Photo / Bloomberg] 
Companies have to cut valuations to lure in worried investors: Analyst
HONG KONG - A record $58 billion in withdrawn initial public offerings (IPOs) in Asia and muted market debuts are expected to force listing hopefuls to cut valuations to win over investors in the world's top region for offerings.
The IPOs have been pulled by 36 companies in the first six months, a record and 39 percent more than a year ago, Thomson Reuters data showed.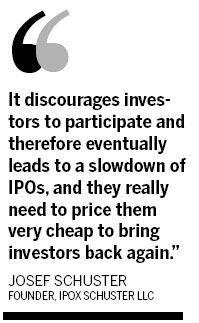 "It discourages investors to participate and therefore eventually leads to a slowdown of IPOs, and they really need to price them very cheap to bring investors back again," said Josef Schuster, founder of Chicago-based IPO investment firm IPOX Schuster LLC.
Two high profile companies to go public this year - luggage maker Samsonite and Italian fashion house Prada SpA - put their IPOs at the top end of the range they had set. Samsonite fell 11 percent on its debut, while Prada starts trading on Friday.
Stock markets across the world have been under pressure on concerns about higher interest rates in China, debt troubles in Greece and weak growth in the United States.
As a result, MSCI's index of Asia-Pacific stocks excluding Japan has slumped about 8 percent since reaching a 2011 closing peak in early May.
Europe's new stock market listings are also in the doldrums.
Some companies are unfazed by the warning signs and are lining up to sell shares in South Korea, Malaysia, Indonesia and other markets in the region.
Even with the shelved offerings, Asia-Pacific IPO volumes have risen 8 percent so far this year to about $48 billion and Hong Kong remains the top market for newcomers, underscoring its global dominance of the IPO market.
Related readings:


 HK to provide yuan IPOs this year


 China to lead stock advances


 Shanghai and HK set for an IPO battle


 Report: HK IPO planned for Samsonite
Companies including China Everbright Bank Co Ltd, retailer Sun Holdings and China Outfitters Holdings plan to raise nearly $12 billion in IPOs through the end of July.
"It remains to be seen how many of these companies will do it at the end of the day and be successful doing so," said Philippe Espinasse, a former investment banker with Nomura and UBS in Hong Kong and author of IPO: A Global Guide.
"The purchasers have more power, and I see that as a positive thing. If you have a strong equity market, where the retail investors are chasing the IPOs hard, the prices aren't as attractive," said John Bugg, head of Asian-listed equities at Macquarie Investment Management in Hong Kong.
Of the 33 companies that had IPOs in Hong Kong this year, 25 are trading below their offer price, led by slumps of more than 50 percent in shares of China NT Pharma Group and Newtree Group.
China NT raised about $210 million in April, while Newtree fetched nearly $48 million in January.
"The fundamentals (for buyers) will be quite better in these market conditions," said Bugg, who helps manage China-focused IPO funds at Macquarie.
Australian mining startup Resourcehouse, which was seeking to raise up to $3.6 billion, tops the list of largest IPOs being shelved in the Asia-Pacific region.
Other large deals that were pulled include the $785 million Singapore IPO of engineering firm MMI Holdings, backed by KKR, and a $300 million deal in April from Australian lingerie retailer Bras N Things.
Perennial China Retail Trust, which owns shopping mall assets in China, slashed its IPO price by 30 percent when it re-launched the offer in late May. The stock is down 14 percent since its debut on June 9.
Reuters