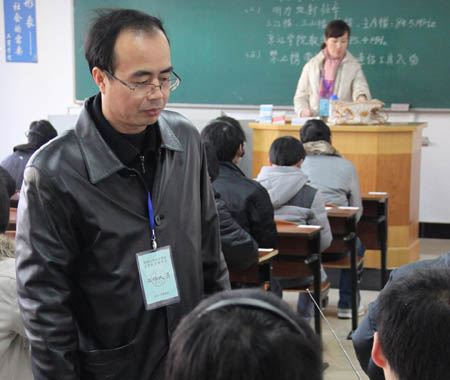 People sit for a CET test in an examination room at a university in Beijing. According to Educational Testing Service, more than 10,000 companies worldwide recognize TOEIC scores as the reference for judging applicants' English proficiency. [Photo/China Daily] 
A workplace English test is increasingly becoming a major factor in advancing careers in China
BEIJING - In China, an English examination is attracting more and more job-hunting graduates and white-collar workers who intend to climb the career ladder, according to ATA Co, the largest professional services provider of testing, assessment and related services in China.
"In 2008, 100,000 people took the Test of English for International Communication (TOEIC). The figure tripled to 300,000 in 2010, and it is likely to reach 500,000 in 2011. Within the next three to five years, the number is expected to exceed 5 million," said Wang Lin, president of the company.
Related readings:


 Innovation scores with exam services company


 ETS offers scholarship to Chinese test takers


 Students' woes come as windfall to overseas agents


 TOEFL seats to increase by 80%

Developed by Educational Testing Service (ETS), the world's largest private nonprofit educational testing and assessment organization, TOEIC is an English language test designed to measure the everyday English skills of people working in an international environment - in other words, it measures how competent you are as an English user in the workplace.
China will become TOEIC's biggest market in the near future because of the rapid development of Chinese enterprises and their desire to share the global market, said Feng Yu, director of TOEIC Global Management Education Testing Service, in a visit to Beijing in December.
"The more global a company is, the higher its requirements in management and communication skills," he said. "Though Chinese companies have not yet been well-aware of the TOEIC's value in evaluating business English, they will catch up very soon as the demand for increased competitiveness grows."
According to ETS, more than 10,000 companies worldwide recognize TOEIC scores as the reference for judging applicants' English proficiency.
"TOEIC is very popular across the world. In Asia, it has been widely adopted by companies in Japan and South Korea. So in my opinion, even the figure of 10,000 is an underestimate. And it is increasing," Wang said.
"TOEIC serves as the standard test for selecting staff for overseas posts for the Ministry of Commerce. Currently, about 100 large companies in China, both State-owned and private sector, are starting to use TOEIC scores in their recruitment of graduates," he said.
According to Wang, some companies already require staff members to take the TOEIC as a condition of keeping their current job, and a high TOEIC score will advance them along the career ladder.
"It is an authoritative test. And we will make more companies aware of this test and its convenience," he added.
The TOEIC is one link in the growing industrial chain of China's English testing and training industry.
"Given the numerous English tests in China, there are some that function like TOEIC but none was regarded as the standard test for professional English proficiency. The market for TOEIC training is very promising," said Yu Minhong, the founder and president of New Oriental Education and Technology Group Inc, one of the largest providers of private educational services in China.
An alliance was formed between the two giants. In November, Wang and Yu signed an agreement to cooperate in tapping the market for TOEIC.
"There will be a day when all English learners will gather at New Oriental's classrooms. If you intend to go abroad, you will attend the Test of English as a Foreign Language (TOEFL) and International English Language Testing System (IELTS) programs, and if you want to find a job, you will join TOEIC courses," Wang said half-jokingly.
As to the question of competition between them, Wang said: "I have none with him (Yu), because we have different focus - I concentrate on providing tests, while he focuses on training."
To mark their alliance, the two companies have produced the first official guidebook to TOEIC.
"To be honest, I am at the bottom of the chain If the testing brings in 1 yuan (15 cents0) from the market, sales of test books and other materials will bring in 5 yuan, and the training programs get the most, about 10 yuan," said Wang.
"For TOEIC alone, the market scale will be billions of yuan," he added.
Bo Yang is in her senior year at a university in Beijing. Early last year, she took a TOEIC examination.
"I took it because it is getting popular and my friends told me that it would help me find a job," she said.
"The test was not very difficult for me. The focus of the vocabulary and usage was different from ordinary college English tests, but to be honest, as long as your English is good enough, it makes little difference," she said.
According to Wang's company, the TOEIC costs 374 yuan for college students and 608 yuan for others.
Bo also spent about 100 yuan on exercise materials.
"It cost me more than 500 yuan in all for this test, and I still had not enrolled in any training program, which would have cost me about another 1,000 yuan at least. But an ordinary college English test costs less than 20 yuan," she said.
"Some companies do not yet know the TOEIC, and more often than not, it just worked as well as any college English certificates. In some cases, companies prefer TOEFL or IELTS scores," college senior Bo said.
Jin Shuai, who works in the human resources department of a Germany-based auto parts company in Shanghai, echoed Bo's opinion.
"In my company, we want applicants to provide us with TOEFL or IELTS scores As for TOEIC, I personally have heard about it, but it does not weigh more in our recruitment evaluation for English proficiency than college English tests," Jin said.
"And the company does not require the staff to take the test to keep their current post," she added.
Zhou Siyu contributed to the story