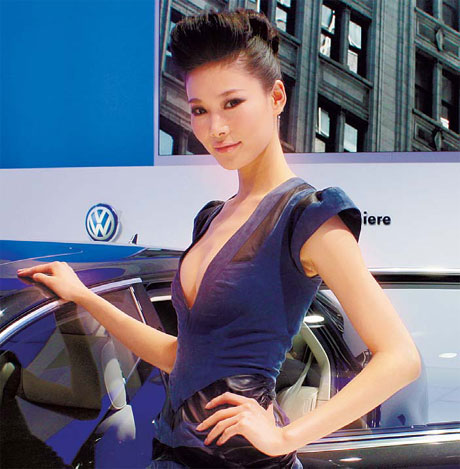 Yang Fang, a top car model with the New Silk Road Model Agency in Beijing, poses for top-end vehicles. Provided to China Daily
A model who stands out in a crowd
Yang Fang is not a traditional Chinese beauty.
With deep-set facial features and thick lips, Yang immediately stands out from many of her peers.
"From the very beginning, most photographers who contacted me were foreigners," said Yang, 25.
"Maybe my face is more similar to that of Westerners."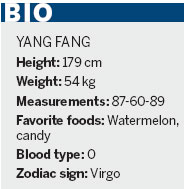 Because of her unique look Yang is typically assigned to stand next to high-end cars, attired in a long gown and keeping a "cool" demeanor.
Yang has grown increasingly popular among domestic audiences, and many fashion magazines have sought her out for photo shoots.
Although fashion shows and modeling for magazines are staples of her work, Yang said she prefers modeling for magazines, which pays less money.
"I just love the feeling of posing for pictures, trying different styles," Yang said.
Yang said she also loves dancing and singing; she once started a band, Show Model, with four other models and recorded a CD in 2008.
Originally from Shanxi province, Yang attended an athletics school for three years, chosen because of her skills in track and field events, particularly the 400 m hurdles.
In 2003, she happened upon a model competition held by CCTV. She quickly was signed to a contract with the New Silk Road Model Agency in Beijing.
"Sports make me strong and help me keep a good sense of rhythm," Yang said. "Many of my model friends were also once athletes, including Zhang Zilin, the former Miss World."
When Yang joined New Silk Road, she got little attention from the company's representatives, she said.
"Maybe because I was a little chubby at that time," Yang said. But this situation didn't last long - after dieting for half a year, she lost weight.
The turning point in Yang's career came in 2005. She was chosen by the luxury-clothing brand Ne Tiger and shot a series of promotional pictures.
The pictures were hung in the Beijing Oriental Plaza, where many passers-by stopped to ask who the girl was.
"Ever since that year, my career went on smoothly," she said.
Shortly after that, Yang was chosen "One of the best models in China" by the China National Garment Association.
In her spare time, Yang enjoys spending time with friends. At parties, she is always the one to make others laugh, she said, noting her ability to craft quirky karaoke lyrics for comic effect.
She is so busy with her career and friends that she lacks time to look for a boyfriend.
"I will definitely not choose a model as my boyfriend," said Yang. "I just want a man who loves me, and cares for me, and can make me feel safe.
"I can support myself financially, so I don't need my boyfriend to be a millionaire, either."