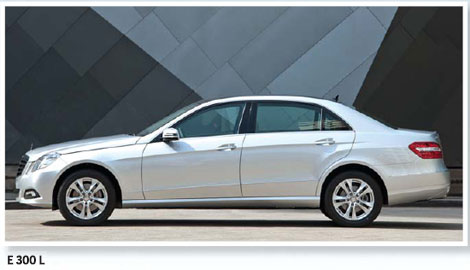 Under the bright lights of the first day of Auto China 2010 yesterday, eager crowds quickly gathered at Hall 4 to enjoy the attention-grabbing booth and latest model debuts of an automaker consistently recognized for its leadership in luxury - the three-pointed star of Mercedes-Benz.
Occupying 2,700-sq m, the largest booth ever for the Stuttgart-based automaker in Auto China history, its entire exhibition highlighted "Fascination, Responsibility, and Perfection" - its theme for this year's show.
The show was graced with 38 models from its four flagship brands of Mercedes-Benz, smart, AMG and Maybach. Among them, taking center stage were three world premieres, three Asia premieres, and one China premiere.
These new models are joining an already successful model portfolio, with which Mercedes-Benz has carried its record-breaking momentum from last year into the first quarter of 2010, to sell more than 23,610 vehicles - marking a growth of 112 percent year-on-year.
Ulrich Walker, chairman and CEO for Daimler Northeast Asia, attributes this success to the three-pointed star's unwavering dedication to the luxury market, especially in China.
"Daimler and Mercedes-Benz have a long-term commitment to China, and with our four unique brands, we relentlessly strive to meet and exceed the needs of our customers in the luxury automobile market - today and in the future," said Walker.
This commitment, however, extends far beyond the automaker's product lineup. "To move forward being a model corporate social citizen, we will invest almost 50 million yuan in corporate social responsibility activities this year, ranging from our partnership with UNESCO to preserve cultural heritage sites in China, like the Sichuan Giant Panda Sanctuaries, to a new Mercedes-Benz school in Sichuan where the earthquake hit two years ago," he added.
It is this kind of dedication that has made China the fourth biggest market in the world for the German luxury carmaker.
Klaus Maier, president and CEO of Mercedes-Benz China Ltd, expects the oriental country to surpass the Britain as the company's third-largest passenger car market by the end of this year.
Full coverage:


Auto China 2010
Related readings:


 BMW: 2010 to set record


 Branding campaign highlights 'Joy of BMW'


 BMW Group sees strong growth in Q1 sales


 Five times around: History of the BMW 5 Series


 BMW, Mercedes see extra legroom backing China growth


 Environment & society top priorities for BMW


 BMW receives mark of approval

Such rapid growth in China can greatly be attributed to the perfect union Mercedes-Benz has found between luxury and eco-friendliness, as the automaker always strives to offer the most exclusive luxury without ever compromising green technology. This has been successfully realized in all of its models on display, especially the new premieres.
Maier credits this to the three-pointed star's constant pursuit of perfection.
"Every model premiered and vehicle on display represent the endless passion, pioneering technology and eco-friendly leadership of Mercedes-Benz,"he said.
"They embody the flawless combination of our 'green luxury' concept and superior quality, while reflecting our constant pursuit for the ultimate in perfection."
The eye-catching backdrop to these innovative models attracted onlookers with its spiraling floors and modernity. The carmaker also demonstrated sensitivity to the market by incorporating distinctively Chinese ingredients with a modern look, including a touch of the stylish "New English Calligraphy".
Beyond this striking design, the three-pointed star also brought Chinese elements to its main show, including an inspiring classical performance by internationally renowned opera singer Dai Yuqiang and celebrated Chinese violinist Lu Siqing that, like Mercedes-Benz, fused traditional and contemporary aesthetics.
Additionally, a breathtaking performance by international pop star Leona Lewis, and a surprise appearance by two-time F1 champion and AMG's brand ambassador to China Mika Hakkinen helped bring an even higher level of sheer fascination to the entire show.
However, the 38 vehicles on display remained the show's main attraction, with the newest premieres once again demonstrating the "pioneering spirit" that is an integral part of the DNA of Mercedes-Benz.
"The success all of our models have achieved in China is proof of the confidence that our customers have shown in Mercedes-Benz," said Maier. "In order to give back and share our appreciation for our customers, who are at the core of everything that we do, we will continue to expand our entire product portfolio in this market and allow for an even more extensive selection when it comes to innovative luxury."