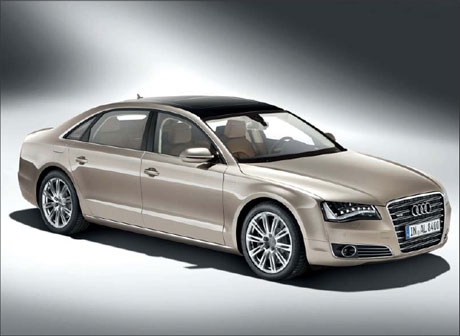 The A8L, tailor-made for China, features a wheelbase 130mm longer than its all-new A8 cousin.
As the flagship model of the Audi brand, the all-new A8L - based on the same model launched at the Miami auto show at the end of 2009 - is not only roomier, but also delivers enhanced drivability, safety and aesthetics.
Representing Audi's top design and technical strengths, the A8L has introduced a full-LED light design, improved MMI multimedia interaction system with a writing pad control and the Audi safety warning system that can assess the dangers to help drivers drive securely.
The biggest change brought by the model is abundant rear space -5,267mm in length, 1,949mm in width, 1,462mm in height and a wheelbase of 3,122mm, some 130mm longer than its all-new A8 cousin. The stretch enhances interior space and improves riding comfort.
The rear passenger space has two independent seats made of supple and comfortable Valonea leather with long-wearing deerskin cushions and headrests. The front passenger seat offers a cozy massaging experience brought by 10 air cushions.
The most conspicuous interior design element is the so-called "wrap-around" concept, which uses an arc to form an elegant line that includes the instrument panel, which is shaped into a mild wave. As the control center of the entire car, two large screens are equipped on the instrument panel and central console to display needed information in high-definition 3D images.
A powerful W12 engine drives the flagship A8L W12 quattro. This 6.3-liter FSI engine delivers a power output of up to 368kW, and a peak torque of 625Nm at revs above 3,250 rpm.