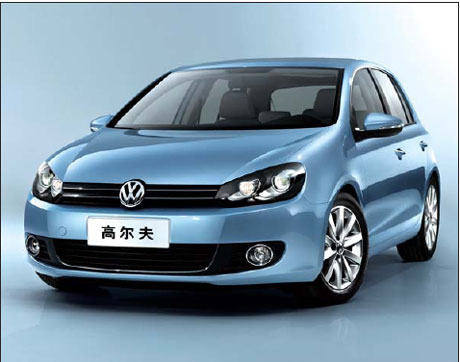 Equipped with a 1.4TSI engine and DSG transmission, the sixth generation Golf offers both power and economy for a balanced performance. Photos Provided to China Daily
FAW-Volkswagen, one of the largest automotive joint ventures in China, has a high-profile presence with its full car lineup at the 2010 Beijing auto show that opened yesterday.
Its exhibits include the locally produced CC, Magotan 2011 version, Sagitar Champion, Sagitar 1.4TSI+DSG, Golf GTI, Golf1.4TSI+DSG, and Bora1.4TSI+DSG sports version.
Debut of the CC
As an all-new flagship model of FAW-Volkswagen, the CC's first appearance in China became a highlight of the show.
As it debuted, it was clear the CC reaches beyond the traditional design style of Volkswagen with its elegant and agile bodyline.
Its appearance, roomy interior and sporty taste are backed by excellent drivability. The CC's turbo-charged direct injection 2-liter engine and six-speed DSG automatic transmission enable it to reach 100km/h in only 7.9 seconds.
The TSI engine offers high fuel efficiency that lowers gasoline consumption and emissions while generating abundant power.
The advanced DSG transmission ensures a continuous power supply and also reduces fuel consumption by a large margin.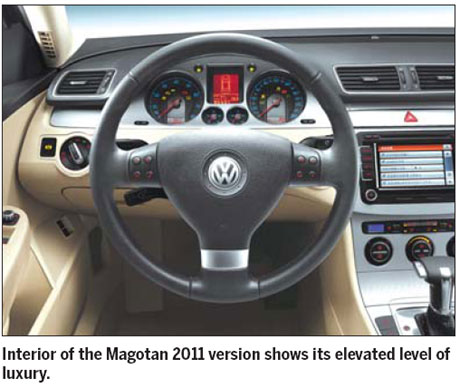 More new models
FAW-Volkswagen has endeavored to install the TSI +DSG powertrain in more current car models, as seen in the Bora 1.4TSI+DSG sports version, Magotan 2011 version, and new Sagitar Champion unveiled at the auto show.
The newly offered Bora 1.4TSI+DSG sports version achieves its maximum torque of 220Nm at 1750rpm to offer much stronger low-end power. It is also equipped with VW's electronic stabilization program, side airbags, automatic air conditioning and electrically heated front seats.
Based on the roomy interior and high safety values of the Bora, the sports version has made all-round upgrades in exterior and interior design to satisfy young and trendy consumers.
The Bora 2011 version and Bora 1.4T will be launched in the middle of this year.
The upgraded Magotan 2011 version is also on show at Auto China 2010.
From interior to exterior, the 2011 version has been elevated to an unprecedented level of luxury.
Equipped with the TSI+DSG powertrain, the Magotan has shown remarkable advantages in both fuel consumption and acceleration.
The traditional contradiction between smooth gear changes and increased power - while seeking to save fuel at low speeds with high torque - have long been a difficult issue in the auto industry. The TSI+DSG has successfully solved the dilemma in the Magotan and other models offering the powertrain.
As a result the Magotan offers efficiency unmatched by other cars in its class.
The newly upgraded Sagitar Champion offers new standard options like xenon headlights, cruise control and other modifications to impart sporty and stylish improvements. At present, two color options are available for the Sagitar Champion - black or white.
The model is equipped with Volkswagen's 1.8TSI engine that generates 118kW of power, the equivalent of a conventionally aspirated 2.4-liter engine.
Also on show is the Golf GTI with its unique sporty design and drivability similar to a racing car.
It comes equipped with the 2.0TSI, six-speed DSG transmission and XDS electronic differential lock that together produce a driving experience begins a new era in locally made high-performance sporty cars.
The sixth-generation Golf, which is now configured with a 1.4TSI engine and DSG transmission, offers a fusion of elegance, agility and stylishness.
Boosted by the powerful TSI engine, the Golf 1.4TSI comfortline model can easily reach 100km/h in 9.5 seconds.
High efficiency, economy and a balanced performance have pushed the sixth generation Golf to a higher level of product quality, safety and comfort.