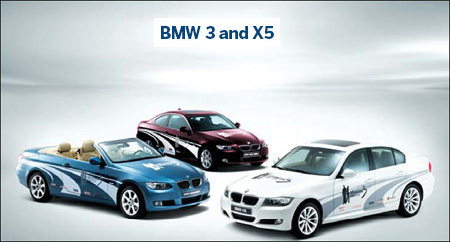 The new BMW 3 Series coupe and convertible, as well as new X5 and X5 with M Sports Package, are expected to be highlights of the auto show in Beijing.
With both exterior and interior designs enhanced to the last detail for a sporting and elegant look, and boasting an updated range of high-efficiency engines and innovations, the new 3 Series coupe and convertible are providing customers a superior driving experience.
Various innovations in the engine portfolio further extend the two models leading position in their class. A new 3.0L straight-six power unit complete with TwinPower turbo, direct fuel injection and Valvetronic on the top-of-the-range 335i coupe and 335i convertible delivers a maximum output of 225 kW/306 hp and peak torque of 400 Nm at engine speed all the way from 1,200 to 5,000 rpm.
The new X5 and X5 with M Sports Package is touted as even more superior, even more efficient.
More dynamic, efficient and luxurious than ever before, the new X5 further enhances its leading position over the competition.
The top model is the BMW X5 xDrive50i featuring a V8 power unit with BMW TwinPower turbo for maximum output of 300 kW/407 hp.
From the exterior this extra dynamism and supremacy is borne out clearly by through modifications in design at both the front and rear.
At the same time an even wider range of driver assistance systems confirms the luxurious and innovative character of the new X5.
As the name implies, the new BMW X5 with M Sports Package enhances high performance X5 features to an even greater level.