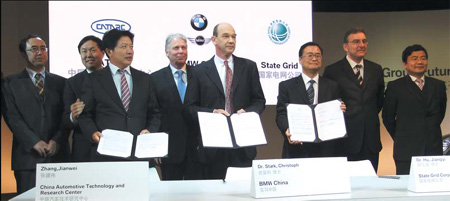 Christoph Stark (middle), president and CEO of BMW China, signed an agreement with representatives from the China Automotive Technology and Research Center and State Grid Corporation of China to cooperate in the field test of MINI E.[China Daily]
BMW Group will introduce its Megacity Vehicle - a tailor-made solution for large cities - in 2013, the luxury carmaker announced yesterday in Beijing.
"The Megacity Vehicle will be the BMW Group's first production car to feature all-electric drive," said Norbert Reithofer, chairman of the Board of Management of BMW AG.
The new vehicle is currently under development and will have architecture specifically tailored to the needs of urban motorists and will ensure the best possible integration of the electric drive.
BMW Group is also broaching new territory in its choice of materials for this vehicle. The ultra-light yet high-strength composite CFRP (carbon fibre-reinforced plastic) is a crucial part of the materials mix.
The company had its first experiences of electrically powered vehicles almost 40 years ago with a modified BMW 1602 that led the marathon and long-distance walking events in the 1972 Summer Olympics.
In the decades that followed, this alternative drive technology was further pursued using numerous mobile test beds, among them the revolutionary BMW E1. The technical breakthrough in lithium-ion battery technology now brings series production within grasp.
The BMW Group has already been gathering insights into the day-to-day use of electric vehicles since mid-2009, when it launched a global field test involving more than 600 MINI E models. 2011 will see the handover to customers of a further fleet based on the BMW Concept ActiveE unveiled in January of this year.
In the Chinese market too, the BMW Group anticipates high demand for electric cars. For this reason, 50 units of MINI E are to be delivered to China as a field trial before the end of 2010.
The renowned China Automotive Technology and Research Center (CATARC) is the main partner in the preparation, implementation and assessment of the practical use of these vehicles.
State Grid, as the leading public utility company in China, will be the grid partner of the project and fully support in charging facilities and infrastructure-related studies.
Moreover, the MINI E field trial project is under the framework of Chinese-German Forum for Economic and Technological Cooperation.
Since 2008, BMW Group, jointly with Shanghai Tongji University, began to work on a program to develop the "ECHO" electric car, which marked the first ever Sino-German project on developing pure electric vehicle as well as BMW's first co-research program in China.
The results will be fed into the development of electrically powered vehicles for the Chinese market.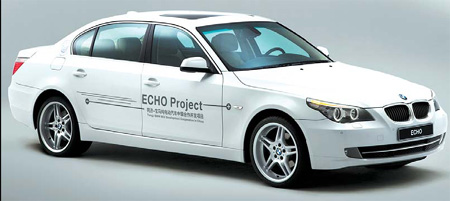 Jointly with Shanghai Tongji University, BMW Group began to work on the program to develop the "ECHO" electric car since 2008, which marked the first ever Sino-German project on developing pure electric vehicle.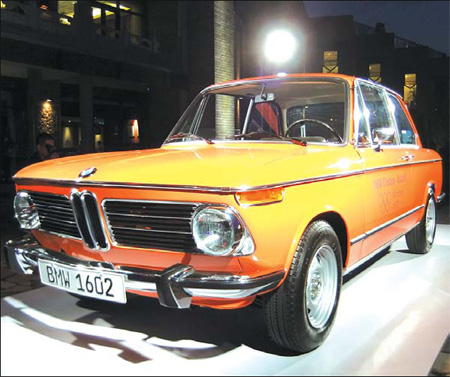 The modified BMW 1602 used to lead the marathon and long-distance walking events in the 1972 Summer Olympics. [China Daily]