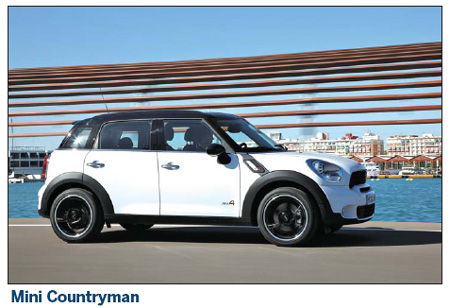 The Mini model family is growing once again with its first crossover member. Measuring more than 4 m in length, featuring four doors at the side, four fully-fledged seats and optional Mini All4 all-wheel drive, the brand's fourth model offers that typical Mini feeling in a new dimension.
Its extra, variable space inside and the elevated driving position give the Countryman an absolutely unique look, while still retaining that distinctive character of a Mini both in its design and driving behavior.
As the first premium car of its kind, the Countryman has everything it takes to win over additional target groups for that driving pleasure so typical of the brand.
The Countryman is available from the start with a choice of three petrol and two diesel engines. In their technical features, the power units are based on the outstanding know-how of the BMW Group in the development of the most advanced engines.
They stand out in particular through supreme efficiency and, in the context of the marque's "Minimalism" philosophy, come with the latest features for reducing both fuel consumption and carbon dioxide emissions.
The Mini Cooper S Countryman is the brand's first model to combine fully variable valve management with turbocharging and direct fuel injection.
This highly advanced combination gives the 1.6-litre four-cylinder with its twin-scroll turbocharger a maximum output of 135 kW/184 hp at an engine speed of 5,500 rpm.