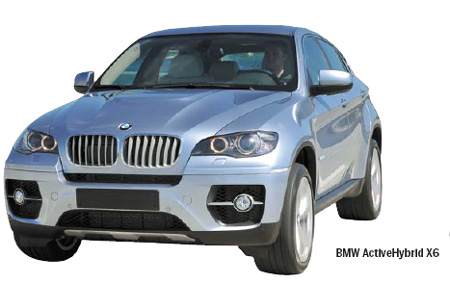 The luxury BMW 7 Series and the world's first sports activity coupe - the BMW X6 - have established leadership in their segments. Now the BMW ActiveHybrid 7 and X6 are setting new benchmarks for luxury, driving dynamics and efficiency.
The ActiveHybrid 7 is powered by a highly developed eight-cylinder engine featuring BMW's TwinPower turbo technology with high precision injection augmented by a three-phase synchronous electric motor that together give it an overall system output of 342 kW/465 hp and maximum torque of 700 Nm.
Precisely controlled interaction between the two power sources optimizes the sedan's efficiency along with driving dynamics and motoring comfort. It accelerates from a standstill to 100 km/h in just 4.9 seconds, with average fuel consumption in the EU test cycle of 9.7 litres/100 km.
Its recharging capacity is eight times higher than a BMW outfitted with brake energy regeneration driven exclusively by a combustion engine.
Hybrid technology also offers new opportunities to provide additional comfort with superior efficiency.
The sedan is the first BMW with an automatic transmission featuring an auto start-stop function.
And for the first time air conditioning and ventilation can remain operating even with the engine switched off.
The BMW ActiveHybrid X6 is a full-hybrid model. The drive system is a 300 kW/407 hp V8 with BMW TwinPower turbo technology and two electric synchronous motors developing 67 kW/91 hp and 63 kW/86 hp.
Maximum system output is 357 kW/485 hp and peak torque is 780 Nm.The sedan accelerates to 100 km/h in 5.6 seconds. Its top speed is limited electronically to 236 km/h.
The recuperation capacity of the BMW ActiveHybrid X6 is about 25 times greater than the power now developed by brake energy regeneration in its standard form.
The BMW's first full-hybrid model is able to drive entirely under electric power up to speed of 60 km/h. The electric motors draw their energy from a NiMH high-performance battery fitted beneath the floor of the luggage compartment that also supplies electric power to the car's on-board network.