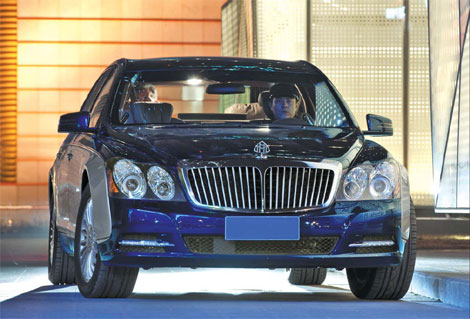 The Maybach, a super-luxury brand of Mercedes-Benz, is now among the top choices of China's elite. [Provided to China Daily]
As China's auto industry continues to post encouraging growth with an increase of 72 percent to move more than 4.61 million vehicles in the first quarter, the market has become a golden opportunity for automakers worldwide.
The passenger car market, especially the luxury segment, continues to surge ahead, evident by the robust performances of brands such as Mercedes-Benz, Audi, and BMW.
Mercedes-Benz has made further investments in China, and continues to hold a positive outlook on the segment.
Klaus Maier, president and CEO of the company's China business unit, believes this luxury market still has huge room for growth.
"In European and American countries, as well as Japan, one of every five car owners drives a luxury sedan. However, the figure in China is one in 10," he said.
Maier also predicted that China's auto industry will grow by 10 to 15 percent this year, and the luxury sector will run a little bit faster than that.
Super luxury models
As such, Mercedes-Benz continues to capitalize on the boom of the luxury car market by introducing more models. And the super-luxury model of Maybach will witness the world premieres of two new generation models - Maybach 57 S and Maybach 62 - at today's Beijing auto show.
Maybach has a long and rich heritage dating back to 1909, when the super-luxury brand was founded by Wilhelm Maybach. For its extraordinary features, Maybachs were part of the German and international elite society in the 1920s and 30s.
"To create only the best from the best, a vehicle that is the ultimate in wish fulfillment, with a distinctive character of the finest elegance and power" - this is how a Maybach flyer dating back to 1930 declared the company's aim.
The philosophy is retained to the present and is clearly reflected in the new generation Maybach 57 S and 62.
Joachim Schmidt, executive vice-president of sales and marketing for Mercedes-Benz Cars, said that the Maybach has always been developed with meticulous attention to detail, and that the new generation models inherit the traditions.
"It is our explicit goal to consolidate its top position in the high-end luxury segment with even more striking design and even more extensive equipment and appointments. Thanks to this additional refinement, our Maybach shines with its self-confident, superior and distinctive charisma," he added.
On appearance, the designers have elevated the modified bonnet on the new generation 57 S and 62 S models with a higher front upper edge and given it sharply defined contours. It has a shaped edge and appears distinctly arrow-shaped, more expressive and longer than before. A restyled, horizontally structured bumper trim gives the saloons an even broader look from the front.
The interior is a feast of superior craftsmanship and materials. Tailored according to the specific needs of customers, this is where passengers are truly able to feel the elegance of these new models.
The new generation Maybach 57 and Maybach 57 S both feature rear reclining seats that have been extended to the front passenger, while handcrafted upholstery can be inlaid with valuable crystallized Swarovski elements, enriching an already extravagant luxury vehicle. It perhaps no surprise that many customers prefer to travel in the superior comfort the rear of a Maybach offers to a private jet - sometimes for distances of over 1,000 km.
Personalized service
The highlight of the Maybach is its ability to offer customers approximately 2.2 million ways of catering their high-end luxury car to their personal taste. This ranges from a luggage set to a champagne goblet of sterling silver, a humidor to a golf bag, and floor mats of the finest velour to a fluffy travel rug.
Each customer is also given a Maybach personal liaison manager who will be on call 24 hours a day. The managers will give the customers' specific orders directly to the plant, enabling each Maybach product to be individualized according to the owner's styles and tastes. Maybach will also offer an upgrade of such services, allowing more specification selections to China's customers, showing the increasing importance the automaker is placing on elite Chinese consumers.
All this luxury is propelled by an even stronger performance and in the spirit of "For a Greener Tomorrow", the model is powered by even fewer emissions. Mercedes-Benz has increased the output of the 57 S and 62 S by 13 kW to 463 kW, while also significantly reducing emissions.
The Maybach brand benefits immensely from the technical leadership, know-how and experience of its sister-brand Mercedes-Benz. Innovations so far uniquely available in Mercedes-Benz vehicles often undergo further development for the Maybach, and are included as standard equipment. Some of the features including the electronically controlled air suspension system Airmatic DC and the operating and display system Comand APS can be found on the S-Class.
"We have given it everything that the most demanding of customers might expect from an automotive icon - even more comfort, even more prestige and even more exclusivity," Schmidt added.