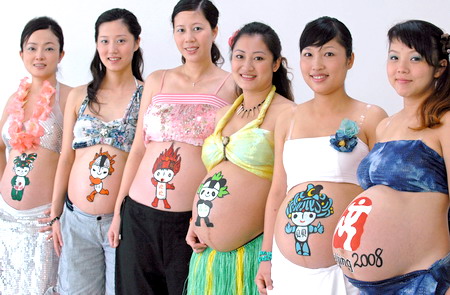 Beijing 2008 Olympics' mascots and logo are painted on the bellies of six pregnant women. The enthusiasm of Chinese people for having a baby in the United States to enable the child to have American citizenship was "crazy", according to Jia Zijun, a Chinese American who returned to the mainland from the US three years ago to set up her own business that helps Chinese women to give birth overseas. [Photo / Bloomberg]


Increasing numbers of Chinese women seek to give birth in North America
BEIJING - The business of helping pregnant Chinese women to give birth in the United States has attracted an increasing number of people to the market. However, one insider predicts it will come to an end in five years.
The enterprise, which began 20 years ago in Taiwan province, has become popular on the Chinese mainland.
For Jia Zijun, a Chinese American who returned to the mainland from the US three years ago to start the business, the enthusiasm of Chinese people for having a baby in the US so it could have American citizenship was "crazy".
"We received more than 100 calls from people asking about giving birth in the US in one day in the third quarter of this year," said Jia, who is now the representative of a consultancy for helping expectant Chinese mothers travel to California to give birth.
"Unfortunately, in most cases only about three clients in 100 are qualified to realize their dream through our help," said Jia. "Others cannot because of difficulties in getting a visa, financial problems, or lack of knowledge about US society.
"Sometimes, they realize that they are not qualified or it is not suitable to have a baby with US citizenship after we explain all the details of the process."
Technically, these kinds of agencies can help any woman who is qualified to travel to the US to give birth there because all they need to do is to help them find a suitable hotel and a nearby hospital. However, the women need to get a visa by themselves, which is the most difficult step.
Even though it is not against the law, it is usually not easy for obviously pregnant women to get a US visa. As a result, most pregnant women apply when they are not visibly pregnant.
Jia's agency has helped more than 100 Chinese women from the Chinese mainland to give birth in the US since it was established in 2007 in California. She is in charge of the Beijing office of her company, which goes under the name the US Yuezi Center. Yuezi in the Chinese language refers to the first month after a woman gives birth when, in Chinese culture, she receives special care over her diet, sleep and health.
The company has eight babycare centers in US cities including New York and Los Angeles, where expectant mothers can kill time by shopping in malls nearby.
The company provides the expectant mothers with shopping trips three times a week and arranges tourist outings if the clients ask for them.
The biggest babycare center at 400 square meters run by Jia's company is near Long Island in New York. The mothers are served with traditional Chinese dishes such as stir-fried liver, pearl barley soup and boiled fish - foods deemed to be especially good for pregnant women.
Back in China, the representatives are mainly responsible for attracting clients and signing contracts with them for their trip.
The average fee for the whole service including accommodation and hospital charges in the US is between 100,000 yuan ($15,026) and 150,000 yuan. Clients need to pay extra for flights and the cost of the visa.
The trend of giving birth in the US began in Shanghai and has now spread to Beijing, Guangzhou, Shenzhen, Hangzhou and other big cities.
Jia Zijun said competition in Beijing is less fierce than in Shanghai and the capital is the fastest growing market, so she chose it as the location for her company's Chinese representative office.
The business began by opening a website and blog. It stepped up its marketing in 2009 and custom grew dramatically this year.
"We felt that the business environment in China is so good and we didn't want to miss the opportunity," said Jia. "Thanks to the media's coverage of the trend of giving birth abroad early this year, more people got to know about this opportunity to change their life. We had our busiest month in June."
However, Jia said the industry, if it can be called an industry, is in chaos, especially in Shanghai, because too many inexperienced and unqualified people want to get a slice of the pie.
Many company owners are simply former clients who came back after giving birth in the US. Apart from the experience of giving birth in the US, they don't know anything, Jia said.
They have no idea how to choose the hospitals, deal with all kinds of application forms in English, or understand many legal issues in the US because when they gave birth there, companies like us did all of these things for them, she added.
Moreover, ill feeling is caused because some Chinese mothers try to skip the medical fee and there are US domestic movements regarding immigration that collaborate to make the future of the business difficult to predict.
Li Fan, a representative of another company in the same business in Beijing, said the increasing number of Chinese women who make use of the service is having a bad effect on the industry.
"Some women applied for insurance policies not designed for visitors who hold a B1/B2 visa through the help of a friend," said Li. "In this way, they can avoid paying the medical care fee."
Li said there have been several moves recently in the US to object to the 14th Amendment to the American Constitution, ratified in 1868, which states that anyone born on US soil has the right to US citizenship.
Illegal immigration could lead to changes in the law and they could come fast, Li said.
"There is only either legal or illegal in the US without any gray area, so, unless the Constitution changes, the act of going to the US to give birth is not against the law," said Wang Hongzi, the senior researcher at the Institute of American Studies in the Chinese Academy of Social Science.
"However, if the business becomes industrial on a huge scale, I believe the US may take measures to control its development."
Wang told China Daily the tax and welfare system may be changed to stop people who just want to take advantage but don't want to make any contribution.
Facing the growing enthusiasm for giving birth in the US, experts have been reminding the public of certain disadvantages to the process.
Related readings:


 Pregnant Chinese traveling to get US citizenship for babies


Parents deliver US citizenship 


 'Join army, get US citizenship' finds no takers
Most couples decide to give birth in the US because they want to provide their child with better educational resources, especially at the higher education stage. As a US citizen, there will more chances for them to get into elite Ivy League or other well-known American universities.
Because of the parents' Chinese citizenship and their jobs in China, they usually have to come home to bring up the child.
According to Chinese laws, youngsters with foreign citizenship cannot enjoy the nine-years of education provided free in China. As a result, they have to choose private schools that charge high education fees.
US laws, which are known to be comprehensive, are not easy to take advantage of, either.
Chinese parents need to help their child to return to the US every five years to ensure the validity of his or her US citizenship.
Dannie Lee, a 30-year-old Chinese white collar worker from the Chinese mainland, wants to have a second baby born in America because of the one-child policy in China.
She thinks going to the US to give birth is a good way to sidestep Chinese law.
"Moreover, the whole family could emigrate to America someday by giving birth to our second baby. It is so worthwhile spending the money," Lee said. "But we will do it all by ourselves because my husband has many friends there and I also have been to the US several times. We are familiar with the situation in the US."
With increasing business and academic exchanges between China and the US, more Chinese will go abroad on their own account. If they really want, they can find the time and the way to give birth in the US.
As a result, the number of mothers giving birth overseas will increase, but the business might fail.
"Why do people who can just go to the US easily bother themselves by hiring an agency to charge them?" Wang Hongzi asked.
"With lower profits, wiser and more capable citizens, and unknown policy changes in the US, I don't think the business can last for more than five years," said Jia.