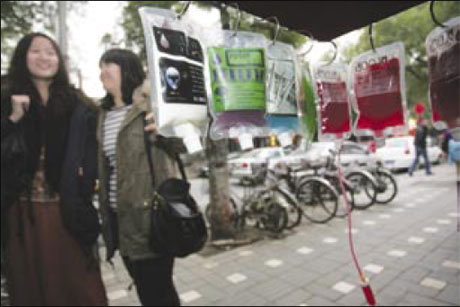 Pedestrians pass a shop in Beijing's Gulou East Street, which sells "vampire blood, zombie blood and werewolf blood". [Photo/China Daily]
BEIJING - On a cold afternoon last month, people crowded in front of a shop on Beijing's Gulou East Street pointing at some unusually colorful bags. Hanging in the storefront like hospital IV bags, they were filled with liquid in an assortment of colors: blood red, light green, light blue, violet and milk white.
"These are vampire blood, zombie blood, werewolf blood, Satan poison and UFO fuel. Drink them and you will get different special abilities," said Ruan Qilong, the owner of the Vampire in Beijing shop, to the curious crowd.
The shop, which opened on Sept 20, is reportedly the first of its kind in Beijing. The storefront also has a stained-glass window adorned with a miniature vampire model sucking blood from a cup held in his skeletal hand. Business seems to be going very well.
"From 1 pm to 10 pm, I can sell around 100 bags a day, although at the beginning, it was only 20 a day," Ruan said.
Dozens of people came and bought Ruan's macabre drinks that day. An activity planner at a nearby bar came to ask about prices for an order of bags roughly in the hundreds.
One 160-milliliter bag of the colorful fluid sells at 16 yuan ($2.4). The werewolf blood was a light blue liquid that tasted like a concoction of lemony tartness and orange soda. Wannabe vampires would probably say that it had a consistency much thinner than blood.
"The beverage is imported from the United States but I designed the bags myself. I spent nearly 300,000 yuan on the beverage, bags and the shop," said Ruan, 20, who is currently a sophomore in a Beijing college.
And why Satan poison and UFO fuel? Simple.
Because "except blood, what else is fluid? Fuel and poison. UFO fuel is definitely much more fun and Satan poison can help you grow horns", he says in all seriousness.
He said two-thirds of his buyers are women and one-third are foreigners. Nearly all of them appear to be in their 20s, Ruan said.
When asked why they wanted to buy the beverage, two young women said they were huge fans of the US television show True Blood, in which vampires replace their food of human blood with synthetic blood packed in plastic bottles. They also watched another popular US show called Vampire Diaries, where some vampires suck their sustenance right out of blood bags.
Ruan said his idea for the shop comes from his love of vampires and zombies.
"About three years ago, I watched a lot of movies about vampires and zombies, such as Interview with the Vampire, Resident Evil and Shaun of the Dead. I am attracted to Gothic culture, especially the kind in early black and white movies," he said.
Some of his inspiration has come from a United Kingdom shop called SUCK, which designs various kinds of goodies. "They sell very useful things and also very interesting things, like this," Ruan said, pointing at a green rubber band holder called a Mummy Mike that he bought earlier this year from the shop.
For future products, Ruan said he has a lot of ideas, "like coffin-shaped biscuits".