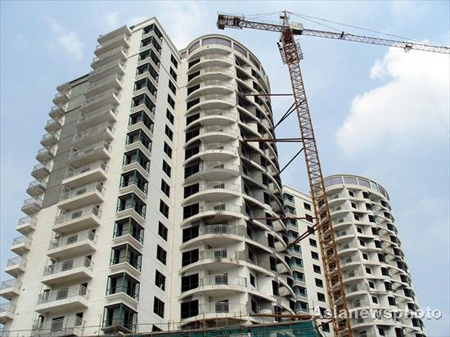 A residential building is under construction in Yichang, Central China's Hubei Province, July 9, 2008. [Asianewsphoto]
SHANGHAI - Home prices will decline from this month as the government maintains its lending curbs and increases the supply of public housing, forcing property developers to cut prices to boost sales, BNP Paribas said.
"Although the government has not quantified its target, it has indicated that it wants to see a housing-price correction take place in order to meet or partly meet public expectations," Chen Xingdong and Isaac Meng, Beijing-based analysts at BNP Paribas, said in a report on Friday, without giving a forecast for how much prices may drop. "We expect a housing price correction to take place from September onwards."
The central government intensified a crackdown on real-estate speculation after property prices surged by a record in April. Besides raising minimum mortgage rates and down-payment ratios for some home purchases, the authorities have pledged to boost land supply and the construction of low-cost public homes. Property prices in 70 major cities climbed 10.3 percent from a year earlier in July, according to the statistics bureau.
China's property developers, the worst-performing group on the benchmark Shanghai Composite Index this year, will "continue to be affected" as the government maintains its curbs on the industry, the BNP analysts said.
The China Banking Regulatory Commission will strictly enforce property policies and work to curb real-estate speculation, the Shanghai Securities News reported on Sept 1, citing Ye Yangfei, deputy head of the regulator's statistics department.
'Very big bubble'
Related readings:


 Dropping home prices put many in a panic


 Home prices may fall to early-2009 levels


 New measures set to curb home prices


 Land minister says home prices face correction

The property market is in a "very big bubble" that may last until the government increases interest rates and introduces a real-estate tax to curb prices, StarRock Investment Management's investment director Jiang Hui said on Thursday in Shanghai.
Vice Premier Li Keqiang urged local officials to further consolidate the results of the government's curbs on speculation and to increase housing supply, according to an Aug 21 statement on the government's website.
China may strengthen the existing measures targeting the property market and speculation that the government will relax such policies has "vanished," according to Deutsche Bank AG in a report on Thursday.
The Shanghai Composite has rebounded 12 percent from this year's low on July 5 as investors speculated the government would ease monetary policy to spur growth. That's trimmed this year's loss to 19 percent.
Shi Bo, general manager of Shanghai Elegant Investment Co, said on Aug 31 in an interview that investors should avoid China's developers as the government maintains property curbs and builds more public housing.
"The majority of people do not think the policy objective has been achieved," BNP said in its report. "It would be very hard for the government to change its party line at this stage."
Bloomberg News