HARBIN - The capital of Heilongjiang province, known for winters with temperatures as cold as -30 C, plans to tear down all its urban slums within three years and move its occupants to warmer homes.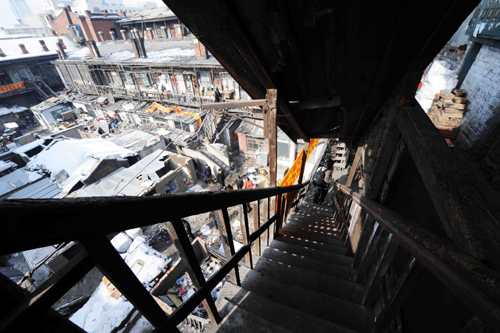 The photo taken on March 3 shows a shantytown in Harbin, capital of Heilongjiang province. This area, which once housed more than 3,000 families, has been under demolition since March. [Xinhua] 
Harbin authorities have already demolished about 11 million square meters of slums from 2000 to 2009, and many slum dwellers have moved into new buildings.
The government is planning to quicken the pace of housing and allow more people to live in better, warmer homes, said Gai Ruyin, Party chief of Harbin.
"It is the government's duty to take care of this group of poor people, who cannot afford to buy any commercial houses," Gai said.
Despite a decade's efforts to improve living conditions, Harbin now has 11.34 million sq m of urban slums scattered among its high-rises. The slum area is more than three times the size of Central Park in New York City.
This year, the city government aims to revitalize 3.45 million sq m of slums. By July, 3.07 million sq m of slums had been demolished and work on building 5.49 million sq m of houses has started, said Ji Weiguo, the city's housing bureau director.
The government will pour 9 billion yuan ($1.32 billion) into these relocation and construction projects, he said.
The slums in Harbin mostly appeared in the 1950s. They do not have running water and drainage systems, or adequate basic facilities like heat and toilets.
Shao Liqing, a community worker in a slum area called Baijiapu, said about 4,000 slum dwellers share two public toilets and people often have to wait in long lines to use them.
Jiang Lina, 50, has lived in another slum area with about 2,000 people in Harbin for more than 40 years, and is now waiting to move into a new building next year. She said the highest temperature in winter inside her old home was only -10 C.
"Without heating, we burned coal at night to keep the room warm, but it was still too cold to sleep well," she said.
Under its latest development plan, the city will revitalize all 11.34 million sq m of slums by 2012.
The government will build a new home between 40 to 70 sq m for each family. Under the plan, each slum dweller is expected on average to expand their living space from 15 sq m to 21 sq m.
Relocated residents will need to pay 890 yuan ($130) for each square meter that is added to the basic floor plan. In the housing market, such apartments are sold for at least 4,500 yuan per sq m, Gai said.
Jiang Lina said she cannot wait to move into her new home, which will have a kitchen and a toilet - facilities she has dreamed of for years.
She also wants to have a study desk for herself.
"Our old 12-sq-m home was only big enough for a double bed for ourselves and a single bed for my daughter. I used to write things on the bed," she said.
"Now my dream is finally going to come true."