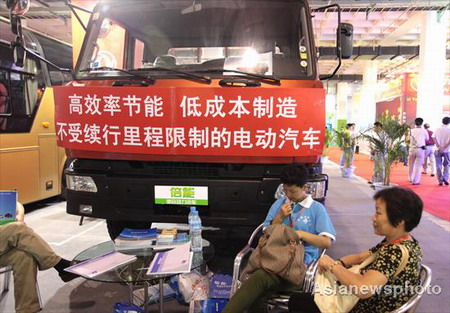 A hybrid Dongfeng truck on show. The company expects production and sales of new-energy and energy saving vehicles to account for a fifth of Dongfeng-brand passenger vehicles by 2015. [Asianewsphoto]
Envisions 100,000 hybrids and 50,000 purely electric vehicles in next five years
BEIJING - Dongfeng Motor Corp, one of China's largest automakers, announced last week that it will invest 3 billion yuan ($440.76 million) over the next five years to develop energy-saving and new-energy vehicles.
According to its plan, Dongfeng will work on technology for hybrid and pure electricity vehicles while continuing to improve the efficiency of its internal combustion engines.
It named 16 key projects in the plan, including research and development into purely electric cars, hybrid buses and some key components.
The company started research work on new-energy vehicles in the late 1990s. It then made concept cars powered by electricity as well as light-duty buses powered by fuel cell.
In 2001, Dongfeng established the first electric vehicle engineering research center in China.
In May this year, it provided 100 Dongfeng Fengshen S30 BSG hybrid sedans to the city government of Wuhan.
Now Dongfeng has more than 400 energy-saving and new-energy vehicles on the streets in Wuhan, Shanghai and Zhengzhou for a field trial.
The company's green vehicles used at the Beijing Olympics in 2008 and Shanghai Expo this year have received wide acclaim.
It has set a goal to produce 100,000 hybrid vehicles and 50,000 purely electric vehicles by 2015. It wants production and sales of new-energy and energy saving vehicles to account for a fifth of Dongfeng-brand passenger vehicles by then.
Related readings:


 More sops for green cars


 Dongfeng H1 sales drive record revenues


Dongfeng Motor starts to build engine plant


 Jianghuai to invest $4.4b in new-energy cars
With plans for 800,000 new-energy vehicles on the market by 2020, the company expects them to have competitive strength with traditional petrol-powered vehicles.
The Chinese government has taken a strong stand to support development of new-energy vehicles. It began a pilot program in June in five cities to provide subsidies to customers of purely electric and plug-in hybrid vehicles as well as automobiles with conventional engines smaller than 1.6 liters.
The government is also considering a plan to invest 100 billion yuan over the next decade to accelerate development in the sector, according to recent media reports.
Foreign auto giants also have strategies for new-energy vehicle development in China.
German automaker Volkswagen plans to introduce its hybrid Touareg to China next year and produce Golf and Lavida electric cars in 2013. The Lavida electric is under development by Chinese and German engineers at the Sino-German joint venture Shanghai Volkswagen.