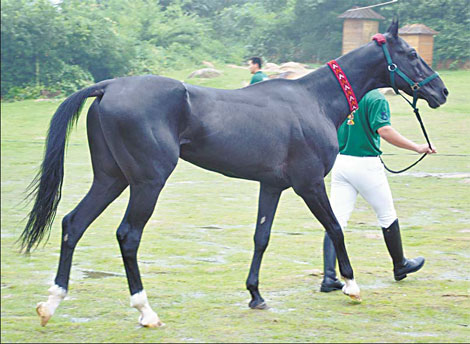 A Ferghana horse belonging to Beijing Yanlong company is put on show at Baimajian scenic spot, Suzhou, in East China's Jiangsu province. The breed, known as Han Xue Ma (literally sweats blood horse in Chinese) can fetch as much as 6 million yuan at auction. Owning a Ferghana is becoming fashionable for China's nouveau riche who are keen to demonstrate their taste for aristocratic lifestyles. [Provided to China Daily] 
Zhang Zihan wants to revive an ancient tradition dating back some 2,000 years
BEIJING - As China's urbanization speeds up the country is shedding some of its traditions.
However, one man is trying to ensure at least one of them will be revived.
Related readings:


 Hainan to pilot lottery on horse racing


 Horse fight, a tourist attraction


 Horse competition in Tibet


 Horse wrestling festival in Spain
Zhang Zihan, general manager of the Beijing Yanlong company, one of the largest horse dealers in China, wants to bring back specialist horse breeding, which has a history of thousands of years.
Three Ferghana horses, known in Chinese as Han Xue Ma, were imported by Beijing Yanlong from Central Asia and put on display earlier this month in Baimajian scenic spot, Suzhou city, Jiangsu province, the stable of King Wu some 2,000 years ago.
Ferghana horses come from the Ferghana Valley in Central Asia. They were first imported during the Han Dynasty. Chinese statuary and paintings indicate they had short legs, powerful crests and round-barreled bodies.
According to tradition, Han Xue Ma literally translates as sweats blood horse. In reality, blood-sucking parasites cause the condition which becomes apparent when the animal is worked. There are currently just 3,000 Ferghana horses left in the world, 2,000 of which are in Central Asia.
"We are planning to introduce Ferghana horses to wealthy people in the Yangtze River Delta Area where there are many potential customers engaged in private horse-breeding," Zhang Zihan of Beijing Yanlong said.
Yanlong imported six Ferghana horses including the three displayed in Suzhou at a cost of 20 million yuan. Already potential clients from Shanxin and Guangdong provinces are showing an interest. "Each horse will be priced at more than 5 million yuan during auction," Zhang said.
It's not the first time that Beijing Yanlong has imported Ferghana horses. In 2007, Zhang and Qu Qingdong, deputy secretary-general of the Horse Association, imported their first three Ferghana horses from Central Asia. All were sold to one person at a price of more than 6 million yuan.
As an increasing number of wealthy people in China turn to specialist hobbies, private horse-breeding is becoming more popular, behind yachting, racing cars and golf. It costs about 10,000 yuan a year to care for a Ferghana horse, including feed, medical care and training.
Currently there are 20 private horse ranches around Beijing. Chu Wen, owner of Beijing Yihe Stud, started his ranch in the 1990s. After he made a fortune in the property business, he put money into the ranch in Beijing's Yanqing district.
With an investment of more than 15 million yuan, Yihe Stud covers an area of 16.7 hectares and includes standard stables, tracks and also a swimming pool for horses.