BEIJING - Using fake or fraudulent invoices for reimbursement has become a common practice among central government departments, the national chief auditor said on Wednesday.
Auditors found 5,170 fake invoices from 56 central government departments and their affiliated institutions last year, involving a total of 142 million yuan ($20.8 million), Liu Jiayi, director of the National Audit Office, said in an annual audit report to the country's top legislature.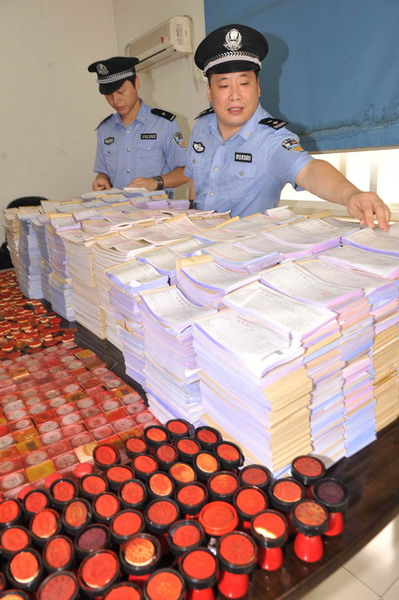 Police officers in Zhengzhou, Henan province, confiscate more than 300,000 fake invoices and 732 seals on sept 2, 2009. [China Daily]
The money cheated mainly involved subsidies and welfare funds for officials, the chief auditor said.
Fake or fraudulent invoices were found when auditors checked 29,363 suspicious invoices from the government departments, Liu said.
The annual audit report has been dubbed an "audit storm" since 1999, after then chief auditor Li Jinhua submitted a bold report to expose government malpractices.
The latest report is believed to be the first time the false claim of invoices has been listed as a separate item.
Zhu Lijia, a professor on anti-corruption from the Chinese Academy of Governance, said such a practice is a very severe problem.
"It's stealing taxpayers' money. It's illegal," he said.
"The heads of those departments involved should bear responsibility or even be sacked."
Fake invoices, commonly used to avoid tax payments and cheat public money, have been considered as a growing threat to clean governance and economic stability.
Police nationwide confiscated more than 112 million fake invoices in the first five months of this year alone, 20 percent more than the whole of last year, the Ministry of Public Security announced earlier this month.
Relevant departments are trying to rectify the problem, Liu said. The chief auditor also said more than 94.116 billion yuan illegally taken from public funds last year have been recovered or returned.
More than 790 people involved in the cases have been punished, Liu said.
Similarly, 104 cases of major violations involving 473 people have been transferred to judicial authorities, he said.
Most of the cases occurred during project approvals, decision-making and loan grants, Liu said.
"Fifty-six of the 104 major cases occurred in public bidding and tender in financial transactions, transfer of State assets, and management of land and mineral resources," he said.
Related readings:


 China confiscates 112m fake invoices in Jan-May


 Police seize fake invoices worth over 5.4B yuan


 Vendors hawk fake invoices to employees


 Fake invoices found in Qinghai-Tibet railway construction
In one of the most serious cases, Li Shuyan and Li Shujun, executives of Jiufeng Liquor Co Ltd in Jilin province, colluded with employees of a local branch of the Agricultural Development Bank of China to fraudulently obtain loans worth 266 million yuan, Liu said.
The chief auditor also singled out rising problems with public institutions affiliated to central government departments. Among the 104 major cases, 16 occurred at such institutions, including publishing houses or research institutes.
Ren Jianming, a professor on clean governance from Tsinghua University, said the trend is due to weak supervision.
"China has strengthened both internal and external supervision on government departments," he said.
"But affiliated organizations and institutions mainly rely on internal watchdogs of departments that often share common interests. That makes them easily turn a blind eye to improper practices."