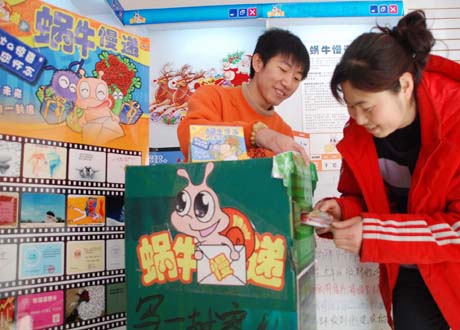 Cao Yingliang(left), aged 28, serves a customer at his postcard delivery company in Shenyang, in Northeast China's Liaoning province. The latest survey conducted by Kelly Global Workforce Index shows more than 54 percent of the adults younger than 30 surveyed are planning to launch their own business in China.[China Daily]
BEIJING - China's post-1980s generation is proving to be passionately entrepreneurial as the economy prospers, a new survey shows.
More than 54 percent of the adults younger than 30 surveyed are planning to launch their own businesses.
That compares with 44 percent of people born in the 1960s and 70s. The figure for people born in the 1950s is about 39 percent.
Related readings:


 China, Japan launch dialogue between young business leaders


 Training course for the rich sparks debate


 Business opportunity a gas for entrepreneur


 34 Chinese youths on 'Young Global Leaders' list
The findings are part of the Kelly Global Workforce Index, which is conducted by Kelly Services, an international human resources company.
The index reveals opinions about work and the workplace from a generational viewpoint. The company interviewed approximately 134,000 employees from North America, Europe and the Asia Pacific region.
More than 2,000 people in China were surveyed with the help of Zhaopin.com, one of China's largest human resources service providers.
Mark Hall, director of Operations Greater China for Kelly Services, said that as the economy rebounds in China it is bringing more opportunities for the post-80s generation to set up their own businesses.
To help matters, the Chinese government has introduced various incentives to encourage college graduates to become self-employed. For example, it provides seed money, free risk assessments, free policy training and reduced taxes.
The soaring cost of living and the emergence of many outstanding young entrepreneurs in China have also given impetus to the momentum.
The survey also revealed that more than 48 percent of Chinese baby-boomers believed they had sufficient ability to run their own businesses. Only 23 percent of the post-80s generation shared that confidence.
The general manager of Kelly Services in China, Zhang Zhisheng, said that post-80s staff were very different from previous generations in that they were efficient workers only when they thought the job was meaningful or interesting.
People stayed with employers on average for two to three years. Young workers, especially those aged between 28 and 30, were reviewing their situations and hoping to obtain a breakthrough in their careers and pay rises.
"Loyalty to the corporation, a sense of responsibility and teamwork, and the ability to endure pressure were relatively lower than the levels displayed by people born in the 1970s," said Zhang.
Post-80s workers have fewer advantages because of their relative lack of industry experience, client resources, partners, management skills and funding. They have to create their own businesses through market opportunities. As a result, they face greater challenges securing entrepreneurial success, said Zhang.
Chen Xu, vice-president of Zhaopin.com, suggested that young people should be more prudent in assessing and observing business opportunities and be prepared to endure hardship.
"They are better off working for a mature enterprise before starting their own business in order to foster networks and prepare themselves for the world of cutthroat commercial competition," Chen said.
"Investment and fund-raising knowledge and social networks are significant to a successful start-up," he added.
"As the economy is turning for the better, the competition will be naturally more fierce," said Hall, from Kelly Services. "The priority for these post-80s people is to improve and update their professional abilities and skills in accordance with market demands. That is the key to success for a new business.
"For employers, post-80s staff are a very important part of the talent reserve and are directly linked to the development of a company."