Trade surplus continues to fall, so stable currency necessary: Ministry
China's trade surplus has shrunk significantly in recent months, so calls by other countries to let the renminbi appreciate are not justified, the Ministry of Commerce said Thursday.
The surplus will continue to diminish in the next few months, the ministry said; and therefore, growing pressure from the United States for China to revalue its currency is becoming "more and more groundless".
"The trade surplus will continue to ease this year, and we cannot rule out the possibility of China recording a trade deficit within the next few months" as the Chinese government "focuses on rolling out measures to stimulate imports this year", said ministry spokesperson Yao Jian.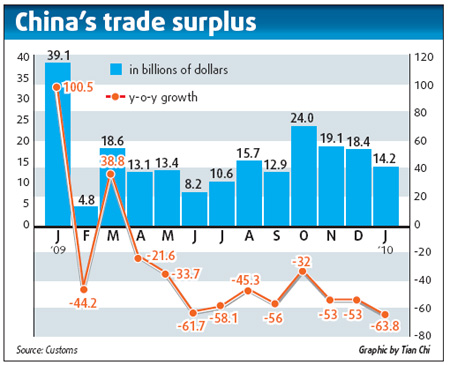 Exports "cannot reach pre-crisis levels for two to three years", and therefore, a stable Chinese currency will not only help Chinese exporters "hold on to their competitive edge", but also "benefit the stability of the global economy".
Trade surplus growth was in negative territory for most of last year; and the trade surplus with the United States fell to $77.4 billion last year from $170.9 billion in 2008, according to Customs figures.
Exports this year will probably grow by "over 13 percent" from a year earlier and the government will make it a priority to "maintain the stability of the renminbi" at least during the first half of this year, Yao said.
During the past two months, year-on-year growth of Chinese imports far outperformed exports. Last year, China's trade surplus decreased 30 percent.
China's exports have rebounded since December, which has provided ammunition for other countries led by the US to seek a revaluation of the renminbi.
US President Barack Obama recently raised the issue when he complained that the "undervalued currency" put US companies at a disadvantageous position. Western economists argue that the renminbi is undervalued by 25 to 40 percent, and predict that Beijing would let the currency rise.
Related readings:


 Yuan appreciation no solution to world trade imbalance


 China won't yield to yuan appreciation pressure: Premier


 Yuan appreciation unlikely for time being: analysts


 Yuan appreciation dampens textile export prospects


 Yuan hits new high against US dollar
But most Chinese economists oppose it, believing revaluation should not happen soon. "The yuan is not likely to appreciate in the next six months, and it is not likely to appreciate until the dollar starts to stabilize," said Dong Xian'an chief economist from Industrial Securities.
The renminbi/dollar exchange rate has been largely unchanged since July 2008 but the real exchange rate has been rising during the past month.
"I don't think there is any necessity for renminbi appreciation for a year, given the rising real exchange rate," said Zhu Baoliang, deputy director-general of the economic forecasting department of the State Information Center.
The US should focus beyond trade, such as in investment, and stop complaining about the currency, said Yao.
More than 60,000 American companies have a presence in China, which creates "annual sales of $150 billion", double the figure of US exports to China, Yao said.