China's largest indigenous automaker Chery Auto plans to outsell its home-grown rival BYD Auto this year, the China Business News (CBN) reported today, citing an unnamed source.
Ma Deji, Chery's deputy general manager, said its company has set the 2010 sales target at 700,000 units. But a company insider told the CBN that Chery will not loose ground to the Shenzhen-based BYD Auto, which has planned to sell 800,000 units this year.
Related publication: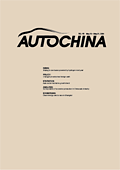 The Anhui-based automaker just inaugurated a new plant in Wuhu, Anhui province on Jan 16. With a 10-billion-yuan investment, the plant will finally add up Chery's annual vehicle production capacity to 1 million units after it goes into production in 2012.
Chery had already built a 4.7 billion yuan ($688.3 million) plant in Dalian, Liaoning province last year. The Dalian plant, with an annual production capacity of 200,000 vehicles, is set to go into operation in June 2011.
As of 2009, the automaker was able to produce 600,000 units of vehicles annually. It sold more than 500,000 cars that year, ranking the first among China's home grown automakers...
The full text is available in the Feb Issue of AutoChina. Please visit E-Shop for more subscription details.